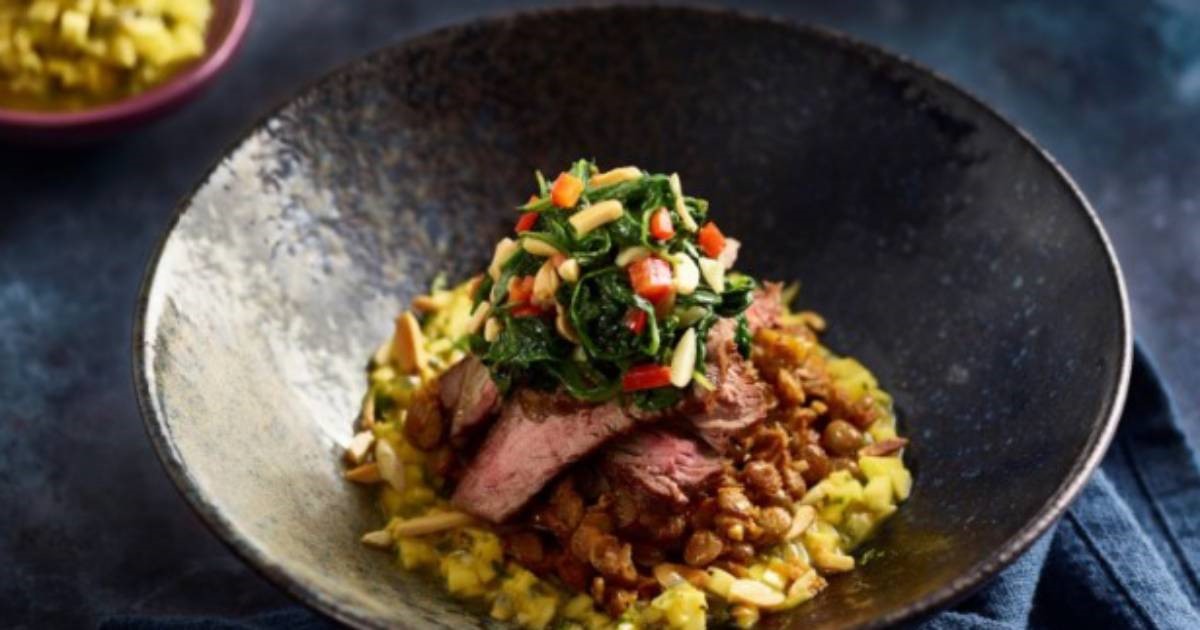 2x300g  Australian Beef Striploin
2 cups brown lentils
2 bunches baby spinach/arugula
1 head of onion & garlic
1 green mango, sliced
1 passion fruit
100g slivered almonds, roasted
1 red bell pepper
200ml coconut milk
200ml mango puree
200ml beef stock
150g tomato paste
Fresh mint & coriander leaves
Olive oil
Salt and Pepper, to taste
Heat oil in a heavy pot over medium-high heat.
Add olive oil, onion, garlic, tomato paste.
Stirring frequently, cook for 5-7 minutes.
Add Pepper and stir again.
Stir in the lentils and the stock.
Stir once and then add the coconut milk.
Bring to a boil, reduce the heat to low and simmer, covered, until the lentils are tender but not quite done, stirring occasionally.
Depending on the type and freshness of the lentils, this will take about 20 to 30 minutes.
Next, coat the meat with olive oil and drizzle with salt on each side.
In a heated pan, cook the chops for 3-5 minutes on each side.
Once browned, remove from pan and allow to rest for 5-6 minutes.
In a separate pan, heat oil. Add coriander leaves, spinach, garlic and red bell pepper.
Sauté for 3-5 minutes.
In a bowl, add remaining ingredients and stir well to combine.
Add the above mixture to the pot with lentils and mix well.
Thinly slice the beef into slivers and add them to the pot along with the spinach mix Finally, top with almonds and sprinkle salt and pepper for added flavor.