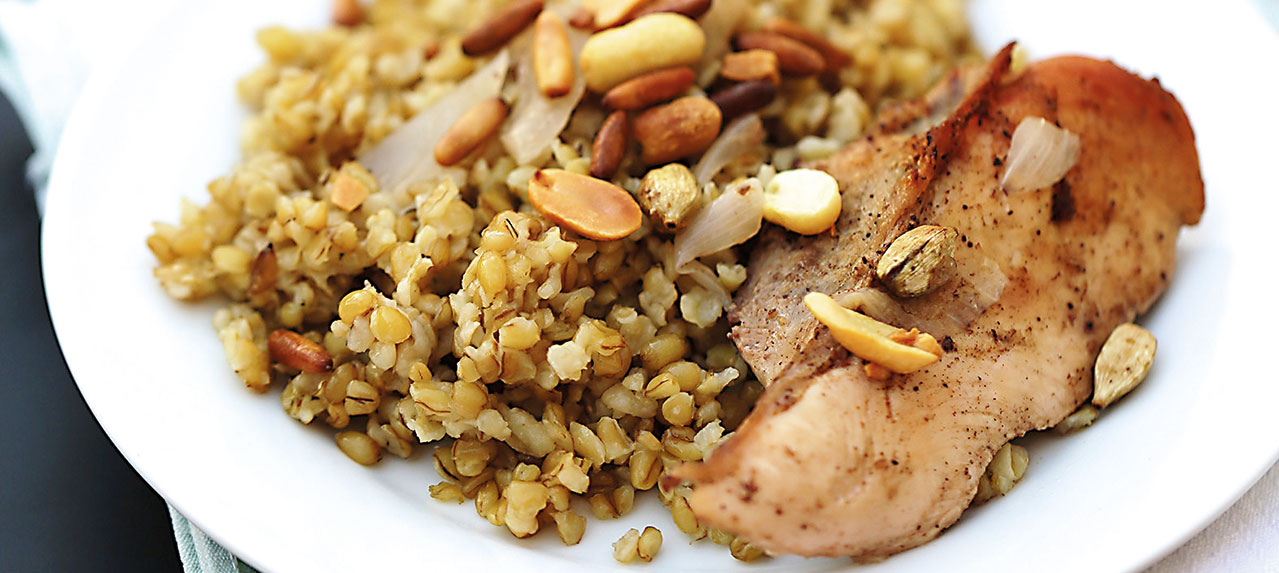 2 cups freekeh
1 chicken
100g mixed nuts (almonds, pine nuts, cashews)
1 cup vegetable oil
1 large onion, halved
1 cinnamon stick
3 bay leaves
1 tsp 7 spices
1 tsp black pepper
1 tsp salt
1. Clean the freekeh under running cold water and watch for stones or debris. Soak the freekeh in cold water for 1 hour and drain it well.
Cooking the chicken
2. Place chicken in a large pot with onion, bay leaves, cinnamon stick and pepper.
3. Add water to cover. Cover pot and bring to the boil; reduce heat to a gentle boil and cook for 90 minutes.
4. Remove chicken and save the chicken broth for later use.
5. Separate the chicken meat from bones and coat the chicken with vegetable oil for roasting in the oven.
6. Roast the chicken in the oven until it becomes reddish.
Cooking the freekeh
7. Place ½ cup vegetable oil in a skillet with the freekeh and stir-fry until all the grains are coated in oil.
8. Pour 3 cups of the chicken broth on the freekeh, add the rest of the spices and cover the skillet.
9. Let it simmer for 25 minutes until the liquid has been absorbed (the freekeh needs to be moist and tender, if it is not, add more broth and cook a bit longer).
10. Stir fry the mixed nuts. Serve the freekeh on a large plate and place the chicken pieces on top. Scatter the nuts over the plate.
1 serving = 1 plate
650 calories / serving