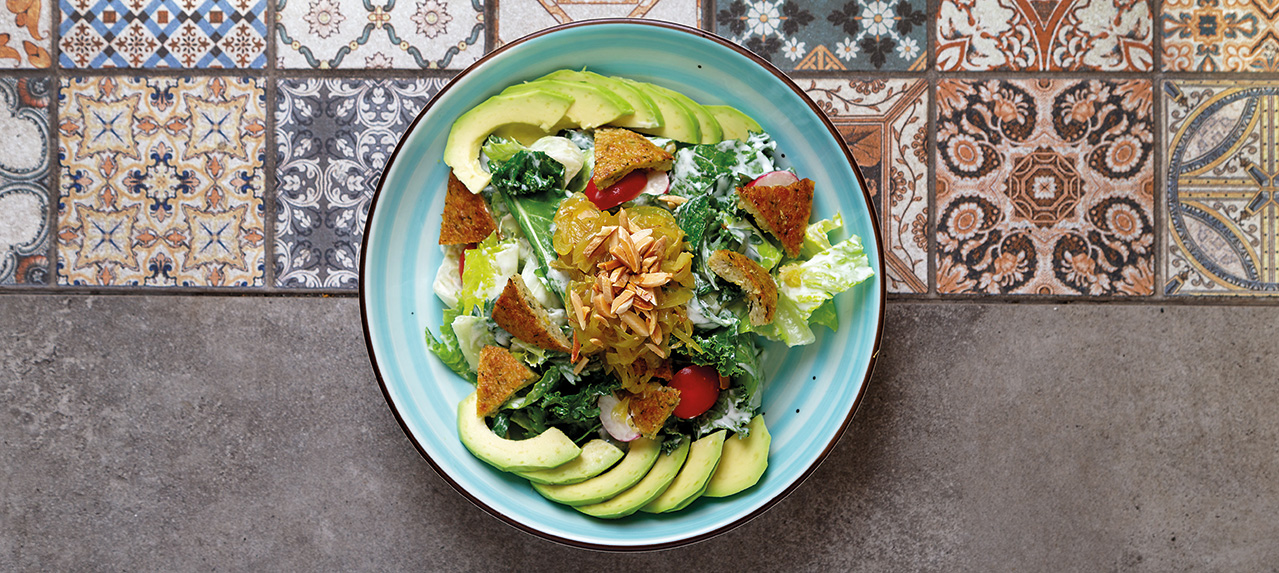 500g fish fillet
250g white fine burghol
10g orange zest
10g lemon zest
10g fresh coriander
8g salt
Salad
300g Romaine lettuce
50g rocca
10g fresh parsley leaves
10g fresh mint leaves
300g avocado, sliced
60g radish
20g roasted pine nuts
Tahini dressing
200g yogurt
40g tahini
1 garlic clove, minced
Sprinkle of salt
Sprinkle of black pepper
1. For the kibbeh, combine all the ingredients together in the food processor.
2. Preheat the oven 180˚C. Lightly grease 4 x 21cm round baking dishes and evenly spread the kibbeh paste over the base.
3. Create a small hole in the center and drizzle with olive oil. Cook until golden brown. Set aside to cool. Using a knife, cut diagonal lines into the top layer, creating diamond shapes, then divide into 6 even slices.
4. For the salad, combine the salad ingredients in a bowl.
5. For the tahini dressing, combine all the ingredients and season with salt and pepper. Pour the tahini dressing over the salad. Garnish with the kibbeh slices.