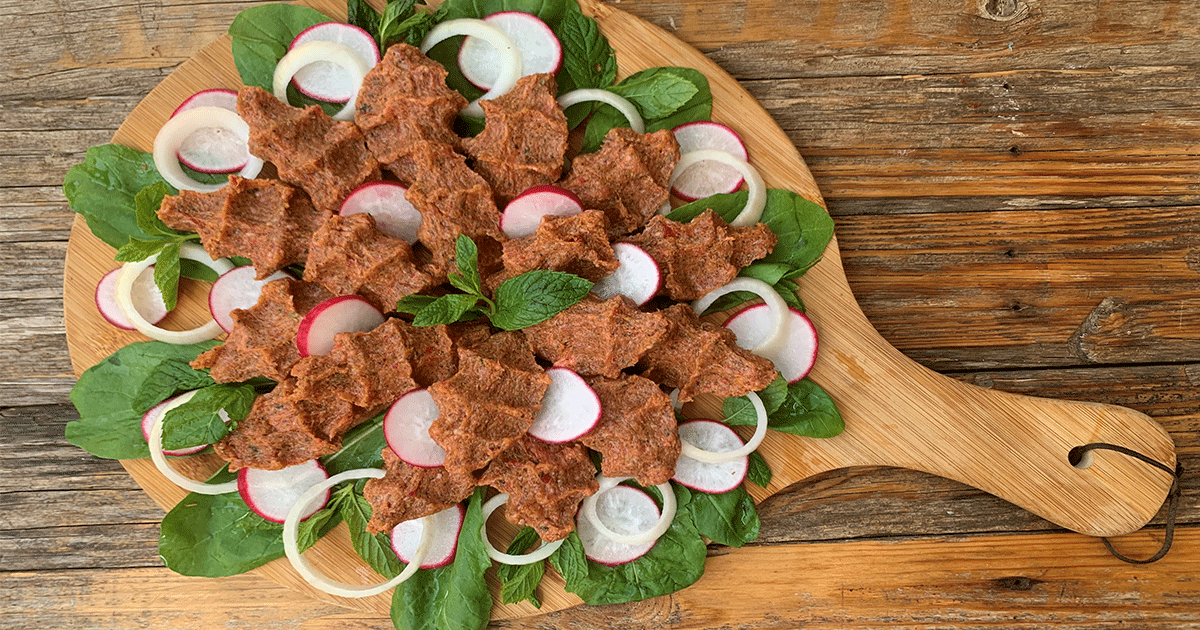 KAMMOUNEH
A special bulgur with some herbs, vegetables and spice mix – specialty of South Lebanon
 1 kg fine wheat bulgur (berghol asmar ne3em)
2 green onions sprigs (green part only)
5-6 basil leaves
Few marjoram leaves (mardakoush)
½ cup of mint leaves
1 small chili pepper (optional)
Handful of parsley
Dried edible roses
1/2 a green/red pepper- or both
2 tsp kibbe spices
1 tsp black pepper
 1 tsp salt
KIBBE
250 g raw kibbe, finely ground meat
1 tsp bell pepper paste (optional)
1 tsp salt
1 tbsp. olive oil
Mint, rocca leaves, radish and onions for serving
 ½ cup kammouneh
KAMMOUNEH
Process all the ingredients in the food processor (without bulgur) then add the bulgur.
Pulse a few times until well incorporated.
Use immediately or allow to dry on a wide plate for a few hours and freeze.
KIBBE
Combine meat with olive oil, salt, bell pepper paste, and kammouneh.
Knead well until you get a soft dough.
Form into frake by pressing a piece of the kibbe between the palm of your hand and your fingers.
Serve with the radish, rocca, mint leaves, onions, and olive oil.
TIPS
You can add toasted pine nuts too and bell pepper paste (found in mouneh shops).