LAMB SADDLE SMOKED WITH PINE CONES
Serves 1 | Prep/cooking time 90 mins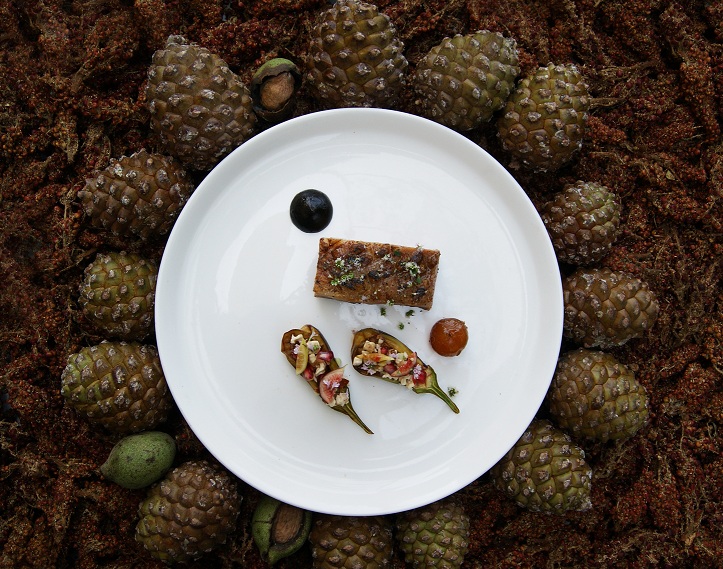 200 g lamb saddle
2 pine cones
2 tbsp olive oil
3-4 fermented black garlic cloves
5-6 tbsp olive oil
2 baby eggplants
5 green walnuts
Handful pomegranate seeds
1-2 fresh figs, sliced
1 garlic, diced
¼ green pepper, chopped
Figs in sugar syrup
1 tbsp butter
Chef's Tip
IT'S VERY IMPORTANT THAT YOU DON´T STOP STIRRING THE MIXTURE WHILE YOU POUR IN THE OIL.
For the black garlic aioli, finely mince 4 cloves of black garlic; add to a mortar and using a pestle pound down on the garlics until you form a paste. Start slowly pouring in 1/2 cup of extra virgin olive oil while you mix all the ingredients together in a circular motion. Once all of the olive oil has been added you should have a mayonnaise like consistency. Add a few drops of lemon juice and a pinch of salt. Set aside.
Cut the baby eggplants in half, salt and deep fry.
Set aside.
Mix together the fresh green walnuts, pomegranate seeds, the clove of chopped garlic, the chopped green peppers and the fresh figs. Add a dash of verjus and season to taste. Add on top of the eggplant.
For the lamb, panfry for color, then place it in a preheated oven at 160°C for 10 to 15 minutes. Burn some pinecones and place the meat on a grill on top on the cones. Cover and let it smoke for around 5 minutes, until the desired flavor is reached.
While the lamb is cooking, prepare a lamb stock by first coloring the bones with olive oil, butter and aromatic herbs. Once golden brown, cover the bones with water and let simmer on medium heat for 2 hours. Strain then reduce the stock. Add a tablespoon of cold butter while whisking. Season to taste and finish with some fig syrup to make the sauce. Pour on the side of the meat and serve.