WHOLE-ROASTED CAULIFLOWER WITH TAHINI SAUCE
Serves 4 | Prep/Cooking Time 40 mins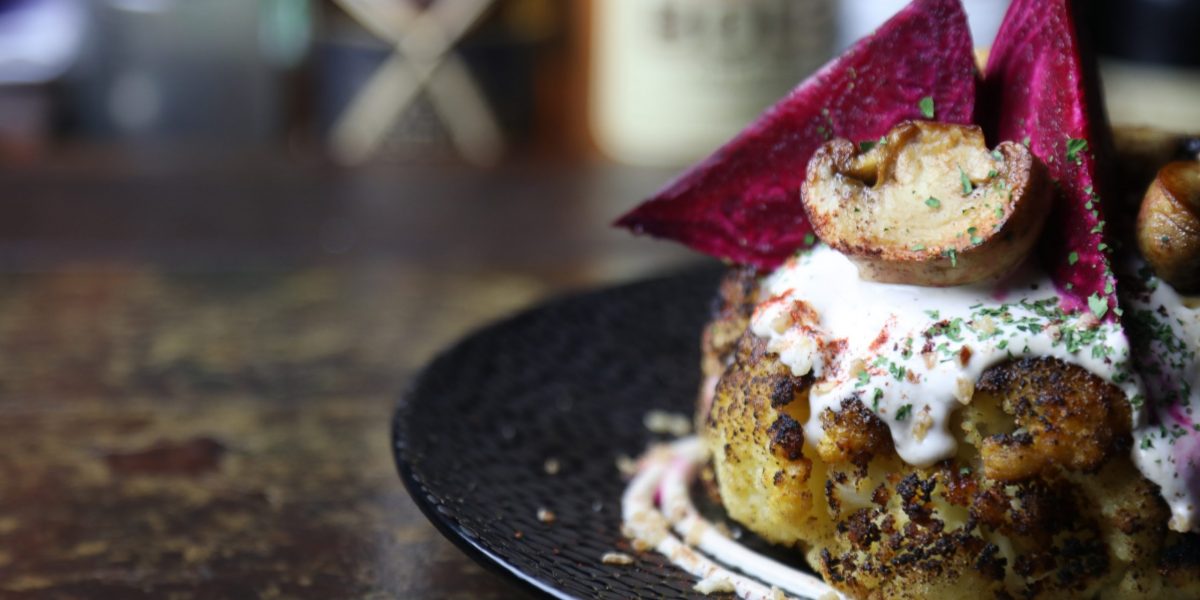 1 whole cauliflower
For the ground spices
• 1 tsp garlic
• 0.25 tsp cayenne
• 0.5 tsp paprika
• 0.5 tsp turmeric
• 0.5 tsp cumin
• 0.5 tsp lemon pepper can
be replaced with lemon zest and crushed peppers
For the tahini sauce
• 0.5 cup sesame seeds
• 1/8 tsp salt or to taste
• 0.5 lemon juiced
• 3 tbsp olive oil
• 2 tbsp water
For the topping (optional)
• 3 tbsp chopped parsley
• 1 tbsp pine nuts
• 1 tbsp pomegranate seeds, 0.25 pomegranate
• 1-2 whole white button mushrooms
1. Boil water in a big pot, put whole cauliflower, with florets facing downward, in a pot. Cook/steam on a medium heat for 10 minutes.
2. Using tongs, transfer the cauliflower to a baking dish, stem-side down. Allow to cool a little. Meanwhile, preheat oven to 200°C.
3. Mix all the ground spices together.
4. Drizzle cauliflower with olive oil, sprinkle with spice mix and rub with your hands, so until it is fully covered.
5. Bake cauliflower in oven for 20-30 minutes until soft and golden.
6. Sauté the mushrooms in a separate pan with a hint of butter.
7. Meanwhile, prepare the tahini sauce. In a hot pan on medium heat, toast the sesame seeds, stirring with wooden spatula, until golden, but not brown! Transfer to a wide plate and allow to cool. Then transfer the seeds to a food processor. Add lemon juice, 1 tbsp olive oil and water. Process until smooth, gradually adding more oil. Add salt to taste.
8. Serve hot cauliflower, drizzled with tahini sauce, then top the sautéed mushrooms and sprinkle with pomegranate seeds, pine nuts or toasted almond nuts, chopped parsley and pickled beetroot.
OTHER RECIPES FROM THE HARD COPY