10 TIPS TO HEALTHY EATING OVER 50S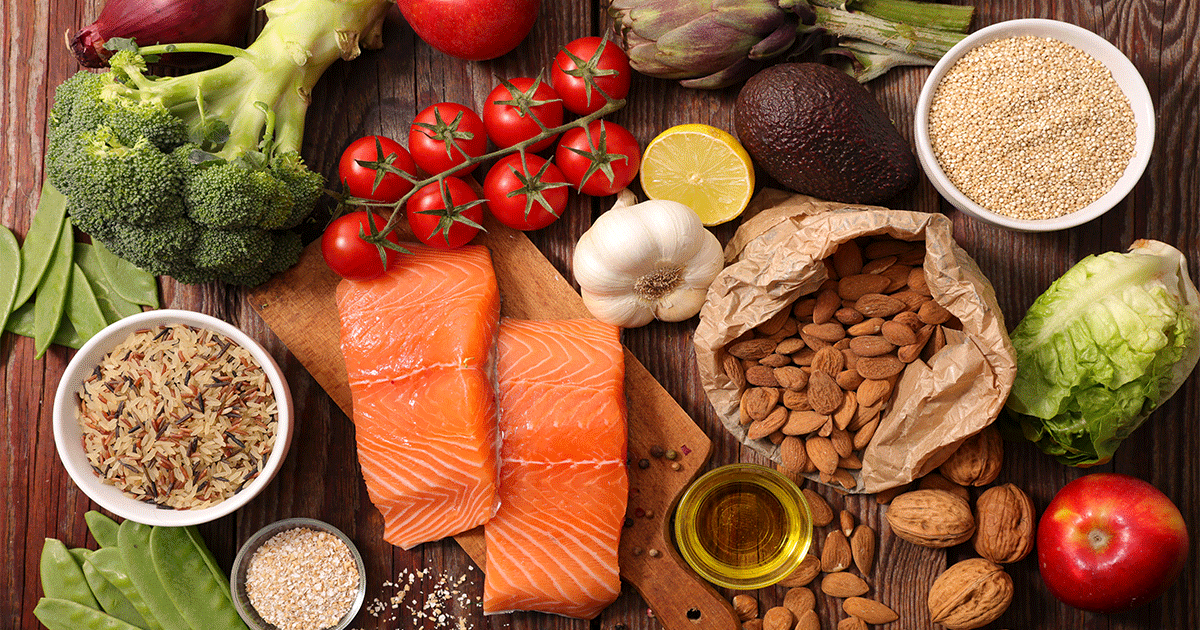 As our bodies change with time, what's on our plate needs to change with it as well. And while we might be able to scarf down a donut or two in our 20s without second thought, it can have a larger impact on our blood sugar levels and risk for diabetes and heart disease when we get older.
Even if you aren't told by your physician to change your diet, it's smart to make some changes on your own once you've reached your 50s.
Here are some healthy tips to follow at this stage of life:
1-MAINTAIN A HEALTHY WEIGHT
It is true that the metabolism often slows with age. However, a poor diet and lack of exercise are actually the bigger reasons why the number on your scale climbs higher and faster in your 50s.
In this respect it is important to make an effort to maintain a healthy weight by staying active and watching what you eat.
Two tricks can help alleviate the slowing metabolism:
-Building more muscles through working out
-Eating small frequent meals multiple times per day: Fueling your body every 3-4 hours will help keep your metabolism running all day long (this means you should also avoid skipping meals).
2-MAKE SMARTER FOOD CHOICES
It is all about eating better rather than eating less. At this age, you need fewer calories but more nutrients.
Choose foods packed with the nutrients you need.
In general, aim to eat whole and fresh foods, such as fruit and veggies, lean proteins and whole grains to maintain optimal health.
Load your plate with bright colors: greens, oranges, reds, purples, and yellow as these are rich in antioxidants with anti-aging properties. Think: berries, sweet potato, leafy greens, broccoli, bell peppers, melon, eggplant, beets…
In parallel, cut down on empty calories and processed food like sugary drinks, junk food, candies, sodas and alcohol…
3- REPLACE REFINED CARBS WITH COMPLEX GRAINS
Swap refined breads and pastas for complex carbohydrates and grains like brown rice, quinoa, buckwheat, and oats. Thanks to their high fiber content, these grains are great for your heart and provide sustainable energy to power the brain and body.
4- EAT HEALTHY FATS
Saturated fats are bad for your arteries and heart health. They may also harm your concentration and memory. So cut down on red meat, butter and fried food. Instead, go for healthy fats that may have extra benefits for your heart and brain.
You can help lower inflammation in the body by getting omega-3 fatty acids, good fats that are found in fish (especially cold-water fatty fish, such as salmon, mackerel, tuna, herring, and sardines)
Aim to eat fish 2-3 times a per week to get the benefits. You can also find omega-3 fatty acids in walnuts, hemp seeds, chia seeds and flaxseeds.
5- KEEP SODIUM LOW
High sodium intake can raise risk of heart diseases and hypertension, so you'll want to keep levels low in the day. A good trick? Don't use that salt shaker when cooking and go for fresh herbs and spices instead, which add flavor without the bloating effect or risk.
Beware also of foods that are naturally salty like processed canned items, ready-made sauces, some cheeses, cold cuts and salty snacks.
6- EAT HIGH-PROTEIN FOODS
While getting protein is important at any age, the requirements are higher for adults in their 50s and up, as their muscles need that extra boost for strength and repair after activity and can't use protein to build muscle as efficiently as they could earlier in life.
Vary your options and go for lean choices, like fish, seafood and chicken breast, and fill up on plant-based options like lentils, beans and nuts.
7- EAT HIGH-CALCIUM FOODS
As we age, bone density lowers, so we need calcium-rich foods to build maintain bone density to lower risk of osteoporosis, prevent fractures and injuries, and keep bones strong and stable.
Osteoporosis gets a fair amount of attention, and most older women understand that the risk of developing this bone disease increases with age. In fact, 1 in 3 women over 50 is at risk of a bone break caused by osteoporosis. Osteoporosis affects men too, but not at such high rates.
Great calcium sources are milk, cheese, Greek yogurt, fortified non-dairy milks, eggs and leafy greens.
8- GET ENOUGH VITAMIN B-12 FOR BRAIN FUNCTION
As we age, we tend to absorb nutrients less efficiently. One key nutrient that may not be absorbed enough is vitamin B-12, which is essential for maintaining both healthy red blood cells and brain function.
The best sources of vitamin B-12 are eggs, milk, lean meats, fish and fortified foods like cereals and grains.
9-KEEP YOURSELF HYDRATED
The sense of thirst is decreased in some individual with age. For this reason and to avoid dehydration it's important to drink plenty of fluids (water, teas and infusions…).
10-BE PHYSICALLY ACTIVE
Exercise and diet represent the best combination for optimal health and fitness.
Being physically active, strengthen your bones, prevent and manage heart diseases as well as blood pressure and help you maintain a healthy weight.
OTHER ARTICLES YOU MAY LIKE
---

BY HEALTHBOX

By HEALTHBOX