11 TYPES OF POTATOES YOU MUST TRY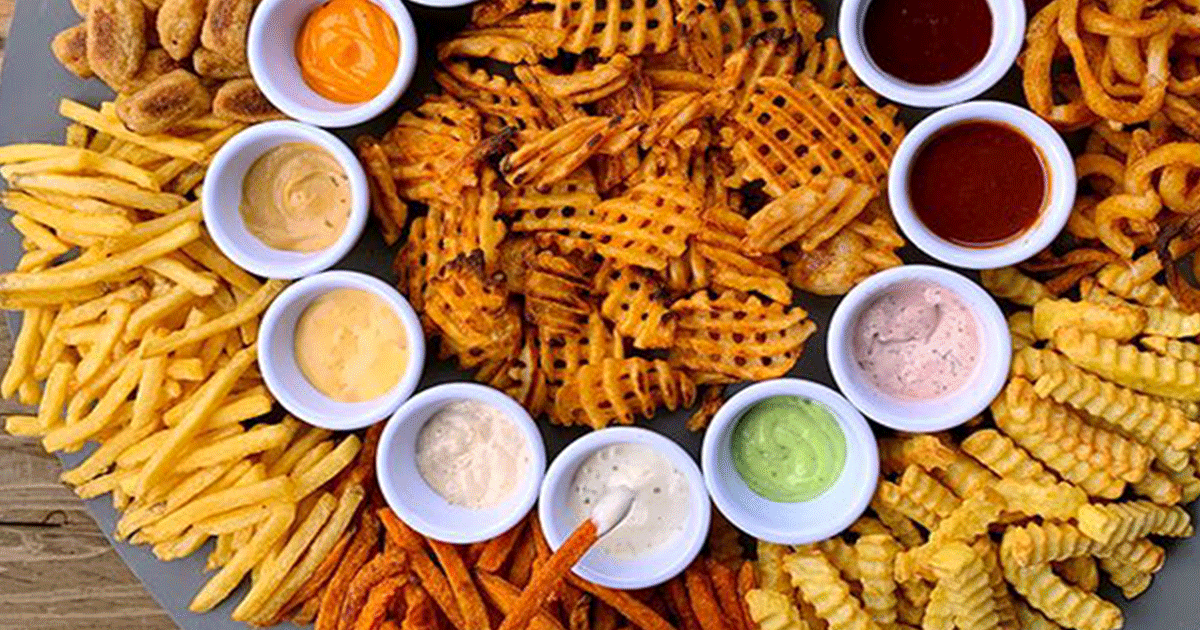 Potatoes come in all shapes and sizes. They are made from cutting out potatoes into stick, wedges, tornado, curly or square and then deep fried or baked in the oven or air fryer
FRENCH FRIES
Slice a potato in half lengthwise with a chef's knife (long potatoes are best for fries). Lay each half cut-side down. Slice lengthwise into 6mm to 12mm thick slices. Stack about half of the slices and cut lengthwise into 6mm to 12mm thick fries.
BELGIUM FRIES
The secret to making the perfect fries is very simple – Belgian fries are double-fried. First, they are cooked, then left to cool down, and finally, just before serving, they are fried again to make them crispy and golden brown.
OVEN FRIES
If you're trying to be health-conscious, baking fries is better than deep-frying them because you can control the salt and fat amounts to make them work for your diet. For a lower-sodium version, skip the salt and add more herbs and spices.
GARLIC FRENCH FRIES
Heat the garlic and oil in a small saucepan over medium heat for 2 minutes. Strain the garlic from the oil. Set both garlic and oil aside. Cut the potatoes into 6mm. In a large bowl, toss the oil, potatoes and 1/2 tsp of salt. Spray a baking sheet with cooking spray and spread the potatoes onto it in a single layer. Bake until golden and crisp, about 35 minutes. When you remove potatoes, add parsley, garlic and salt.
SWEET POTATOES FRIES
Sweet Potato fries are fries made from sweet potato. They come in many forms like a tater tot, waffles, and standard cut. They can even transform into dessert, so you can dip them or top with marshmallow cream, honey or sugar syrup. They are lower in carbs and calories and contain more Vitamin A as compared to white potatoes.
POTATOES WEDGES
Potato wedges are irregular wedge-shaped slices of potato, often large and unpeeled, that are either baked or fried.
For tasty wedges, soak your raw potato wedges in hot water for 10 minutes before baking. This step releases some of the starch in the potatoes and lets them absorb moisture, which leads to crisp outsides and moist interiors.
WAFFLES FRIES
Essentially, you need a mandolin and a specific waffle-cutting blade, also known as a "crinkle cutter." When passed over this attachment, the potato is first cut in one direction and then—after you turn the spud 90 degrees—gets cut it in the opposite direction.
TORNADO FRIES
Tornado fries are originated as street food in South Korea. They are deep-fried spiral cut whole potato brushed with many seasonings like cheese, honey, or onions. Other varieties include sausages in between these fries.
CURLY FRIES
The main feature of the curly fries is that they have a spring-like shape. They are created by cutting the potatoes using a spiral slicer. They are seasoned or breaded.
COTTAGE FRIES
Cottage Fries are similar to potato chips. These are round cut potatoes prepared with or without potato skin. They are prepared using two ways- deep fried or baked. They are seasoned with a variety of items like cayenne pepper, black pepper, and other herbs.
SPICY POTATOES OR BATATA HARRA
Potatoes are either deep-fried or roasted until crispy from the outside, but fluffy on the inside. Then tossed in a spicy cilantro garlic sauce, and finished off with a squeeze of fresh lemon juice.
The starch in potatoes gives them their fluffy, soft texture, but also makes potatoes high in carbohydrates. Removing the starch reduces the carbohydrate content, which is helpful when you're following a low-carb diet. In addition, cooking high-starch potatoes makes them soft and crumbly. Remove the starch when you want to cook crispy potato dishes, such as chips, French fries or hash browns.
A quick rinse under cold water can wash away much of the surface starch. More starch is removed from a cut potato than a whole peeled potato, because a greater surface area is exposed on cut potatoes. Soak them in cold water for as long as a few hours to remove more starch than by rinsing alone.
By T&F

By Chef Reem Azoury

---

By Boecker

By Taste & Flavors

By Taste & Flavors

By Taste & Flavors

By Taste & Flavors