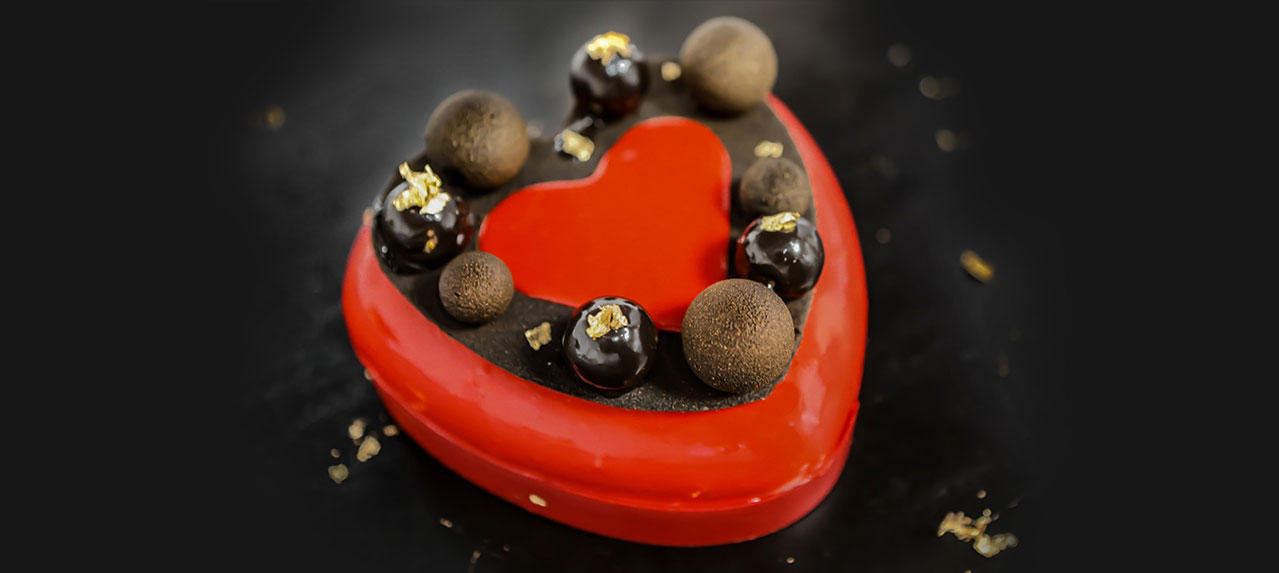 100 g of egg whites
20 g brown sugar
60 g almond powders
60 g icing sugar
20 g of flour
75 g of almond sticks
320 g strawberry puree
200g of sour cherry puree
56 g of gelatin mass (8g of gelatin powder 200 blooms and 48 of water)
40 g of Maïzena
50 g caster sugar
30 g of concentrated cointreau 60% V
Basic lemon cream
75 g whole eggs
80 g caster sugar
3 g of lemon semolina zest
60 g of lemon purée
120 g of butter
40 g of egg whites
40 g of heated glucose
300 g basic lemon cream
1 zest semolina of lemon
50 g of lemon purée
42 g of gelatin mass (6 g of gelatin powder 200 blooms and 36 of water)
250 g whipped cream
100 g of glucose meringue
150 g of water
300 g caster sugar
300 g of glucose
200 g of concentrated milk
140 g of gelatin mass (20 g of gelatin powder 200 blooms and 120 g of water)
300 g white chocolate
10 g of fat-soluble red dye
1. With the beater, using the whisk, turn the egg whites and sugar brown sugar.
2. Add the almond powder, the icing sugar and the sifted flour to the sponge.
3. Mix gently. Sprinkle with almond sticks and bake at 170ºC for about 20 minutes. Book for assembly.
4. Take the strawberry purée, the sour cherry puree, the cornflour mixture, the caster sugar and boil everything. Add the melted gelatin and kirsch. Pour into molds. Place in the freezer and set aside for assembly.
5. Mix eggs, caster sugar, zest and lemon purée, cook at 85ºC, china all, cool to 60ºC. Then add the butter and mix. Filmer on contact and let stand 24 hours.
6. Mix the lemon creme de bas, the lemon semolina zest and the lemon purée. Melt the gelatin mass and mix with the first mixture. Heat everything to about 35ºC. Add the foamy whipped cream and finally the glucose meringue.
7. In a saucepan, cook the water, sugar and glucose at 103ºC, pour the cooked syrup over the sweetened condensed milk, the gelatinous mass, the ivory chocolate and the red dye. Reserve in the refrigerator. The next day, heat the icing at 40ºC and use at 30/35ºC.