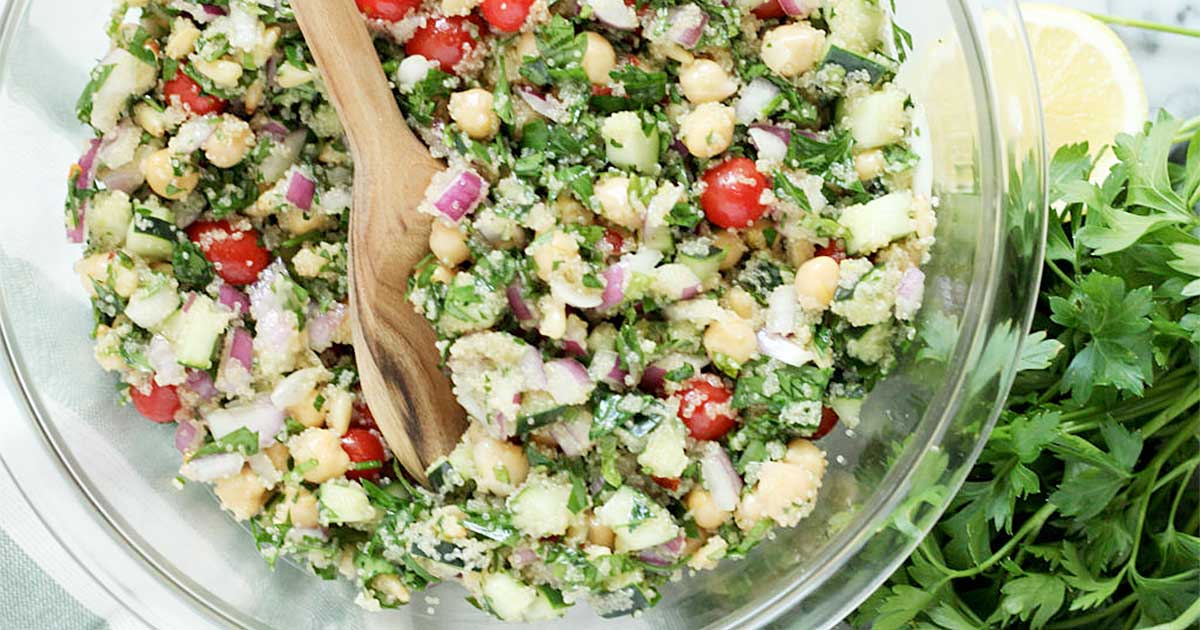 1 1/2 cups cold water
1/2 cup uncooked whole-grain amaranth
2 cups diced unpeeled cucumber
1/2 cup thinly sliced celery
1/2 cup finely chopped red onion
1/4 cup chopped fresh mint
1/4 cup chopped fresh flat-leaf parsley
1 tbsp extra-virgin olive oil
1 tsp grated lemon rind
2 tbsp fresh lemon juice
1/4 tsp salt
1/4 tsp crushed red pepper
1/2 cup drained no-salt-added canned chickpeas
1/2 cup crumbled feta cheese
Lemon wedges (optional)
Calories 260
Protein10g
Carbs 26g
Fat 5g
Fiber 3g
Iron 3,5 mg
Calcium 220mg
Like quinoa, amaranth is an especially high-quality source of plant protein that includes two essential amino acids, lysine and methionine, which are generally low in grains. Amaranth is packed with iron and calcium, its fiber content is triple that of wheat and it is completely gluten-free.
This refreshing salad is great as a side or main dish.
1. Bring 1 1/2 cups cold water and amaranth to a boil in a medium saucepan; reduce heat, cover and simmer for 20 minutes or until water is almost absorbed (it will have the appearance of mush).
2. While amaranth cooks, combine cucumber and the remaining ingredients in a large bowl.
3. Place amaranth in a sieve and rinse under cold running water until room temperature; drain well, pressing with the back of a spoon.
4. Add cucumber to mixture and toss to blend. Add cheese; toss gently.
5. Garnish with lemon wedges, if desired.
Note:
It's important that the amaranth is placed in a fine mesh sieve. The grain is so tiny that it will slip through a traditional strainer. If one is not available, place the cooked amaranth on a large baking sheet, and spread it in a thin layer so it will cool without clumping together.