APPLE BLUEBERRY TART TATIN
Serves 6  | Preparation/Baking time 60 mins
GLAZE – NEUTRAL MIRROR
190g water (40C)
248g caster sugar
3g Sosa Pectin NH
57g Sosa glucose syrup
1 g boiling water
1 g citric acid powder
CANDY- TARTE TATIN CARAMEL
150g Elle & Vire 82% butter
350g caster sugar
JELLY – SOFT BLUEBERRY FILLING
100g Boiron blueberry purée
200g IQF frozen wild blueberries
100g water
91g caster sugar
9g pectin NH
CREMEUX – VANILLA
4g gelatine powder
24g cold water
182g 35% whipping cream
182g full fat milk
1 each Norohy vanilla
Beans (split and scraped)
35g caster sugar
73g egg yolks
DOUGH – SABLE BRETON
60g egg yolks
120g caster sugar
120g Elle & Vire
82% butter (soft)
169g T45 / all-purpose flour
10g baking powder
1g salt
TART TATIN FINAL STEP
Yield: 1 each | 18 cm tart
400g sable breton
75g blueberry jelly
100g vanilla cremeux
180g tart tatin caramel
14 Washington red delicious apples
50g neutral mirror glaze
GLAZE – NEUTRAL MIRROR
Weight 40c water in a pot.
Mix sugar and pectin together with a small whisk and sprinkle into the water while whisking. Bring to a boil while stirring.
Add in glucose and bring back to a boil while stirring then remove from the heat.
Mix boiling water and citric acid together until dissolved and then add to hot mix and whisk through until combined.
Pass through a fine strainer into a container, cover directly with cling film and chill.
Before use, remove any skin/foam off top of glaze before reheating.
Microwave or heat in pot as desired.
To make thicker boil for a few minutes or to make softer add little water or puree if you want to flavor.
CANDY- TARTE TATIN CARAMEL
Bring butter to a boil.
Add sugar and mix in using a hand whisk.
Cook on high heat stirring continuously until light caramel.
Pour a thin layer into desired molds ready to use or onto a silicone mat and allow to set completely.
For storage break into small pieces and keep in an air light container.
JELLY – SOFT BLUEBERRY FILLING
Heat puree, blueberries and water to 40°C.
Mix sugar and pectin and pour into blueberry mix while whisking.
Bring to a rolling boil while stirring with a whisk.
Slightly blend if a smooth consistency is required or use as is.
Cover with cling film directly onto mix to prevent a skin when storing in chiller.
CREMEUX – VANILLA
Soak gelatine powder in cold water and set aside.
Bring milk, cream and seeds, split, and scraped vanilla beans to a boil.
Mix sugar and yolks together with hand whisk. Pour on boiling liquid, while stirring.
Return to heat and cook until 82°C. Remove from the heat and add soaked gelatine.
Chill over an ice bath until cold or use as desired.
DOUGH – SABLE BRETON
Whisk egg yolks and sugar until light and fluffy.
Add soft butter and mix until combined.
Add sieved flour, baking powder and salt. Refrigerate until use.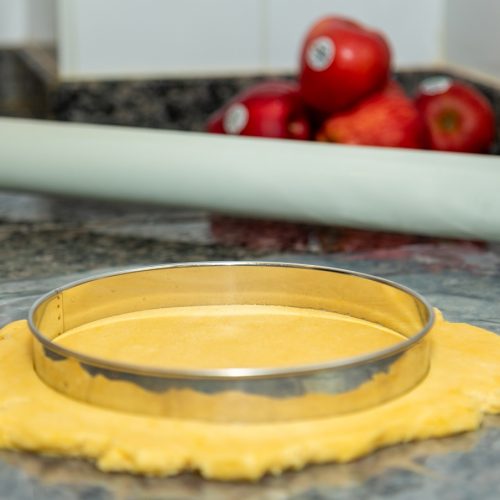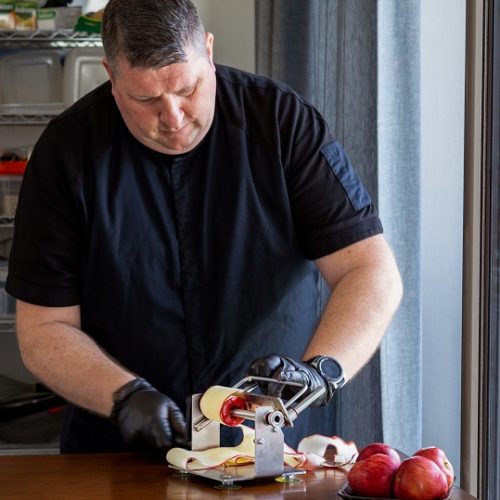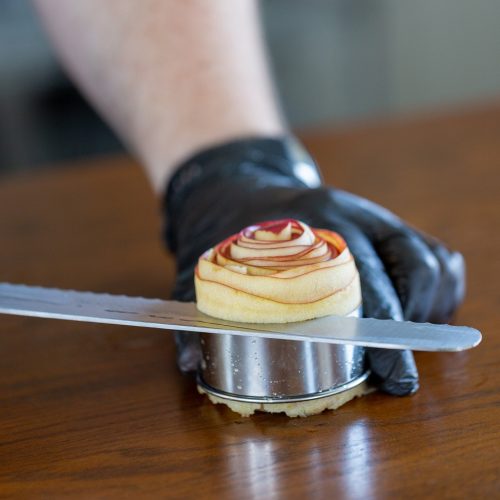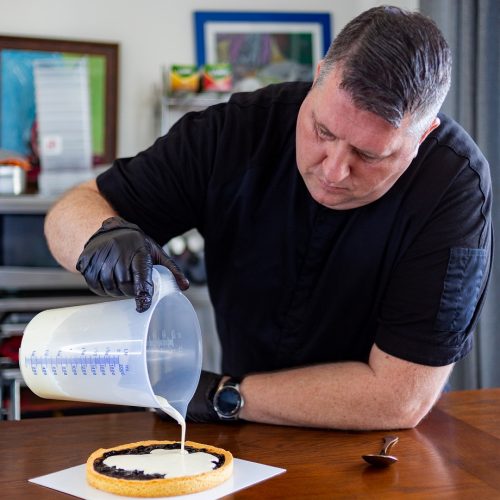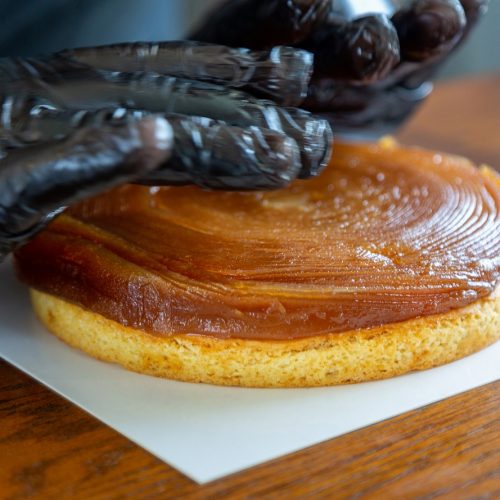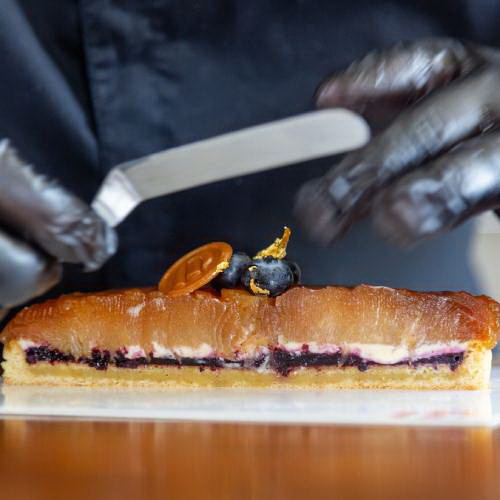 APPLE BLUEBERRY TART TATIN FINAL STEP
Roll sable Breton dough out between plastic sheets to a thickness of 10mm.
Using an 18cm cutter, cut a disc and place inside silicone mold or lightly greased metal ring.
Bake for 35 minutes at 150°C on low fan speed until gold brown.
Using a flat bottom container push down on inside of the cooked dough creating and indent leaving 1cm gap from edge of the sable Breton. Allow to cool and freeze.
Using warm blueberry jelly,  spread thin layer in the bottom of the tart shell and allow to set.
Warm pre made vanilla cremeux slightly and blend until smooth, strain and then pour over the top of set blueberry jelly and leave to set in chiller.
Using an apple corer push through flesh part of apple to make tube of apple.
Using a "Lasagne Sheeter" peeling machine peel apple into long sheets and then roll around the tube of apple.
Repeat peeling one apple into sheets at a time and rolling around until 18cm round.
Place over an 18cm cutter and using a serrated edge knife carefully cut off skin of apple, flip over and repeat.
Cook Tatin caramel and pour 180g into base of a silicone mold or ring lined with foil and spread evenly and allow to set.
Carefully slide the peeled apple disc into the mold / ring and then cover mold with foil.
Bake for approximately 60 mins and 170°C depending on your oven and allow to cool then slightly freeze to assist easy removal.
Flip over and remove any excess caramel and clean with palette knife and place on tart.
Bring neutral glaze to a boil and lightly coat caramelized apples to give shine and help hold everything together while slicing.