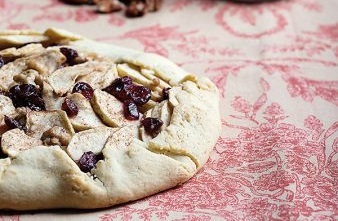 Sweet Crust Pastry
1 recipe sweet crust pastry
For the Filling
50g plain flour
50g unsalted butter
50g light brown sugar
80g almonds, walnuts, pecans, or hazelnuts, roughly chopped
110g caster sugar
1 tsp ground cinnamon
¼ tsp ground ginger
¼ tsp ground nutmeg
3 granny smith apples
25g bread crumbs
60g dried cranberries
1. In a small bowl, rub the flour and butter together using your fingertips.
2. Stir in the sugar and your choice of nuts. Place in the fridge for at least 30 minutes or until chilled.
3. In a medium bowl, combine the sugars, cinnamon, ginger and nutmeg. Toss in the apples and cranberries, till combined. Then toss in the butter and pecans mixture.
4. Roll out the pastry dough, using a floured rolling pin, roll out the pastry on a large sheet of floured baking paper to a circle of about 30cm across.
5. Upturn the pastry and paper onto a baking tray. Peel off the paper.
6. Sprinkle the center of the pastry with breadcrumbs.
7. Pile the prepared fruit in the center of the pastry leaving a wide boarder and fold the pastry edges up and over the fruit. Bake for 35 – 40 minutes, until the pastry is golden and the fruit is tender.