Serves 10 | Prep time 45 mins/ Baking  & rest time 1h 15 mins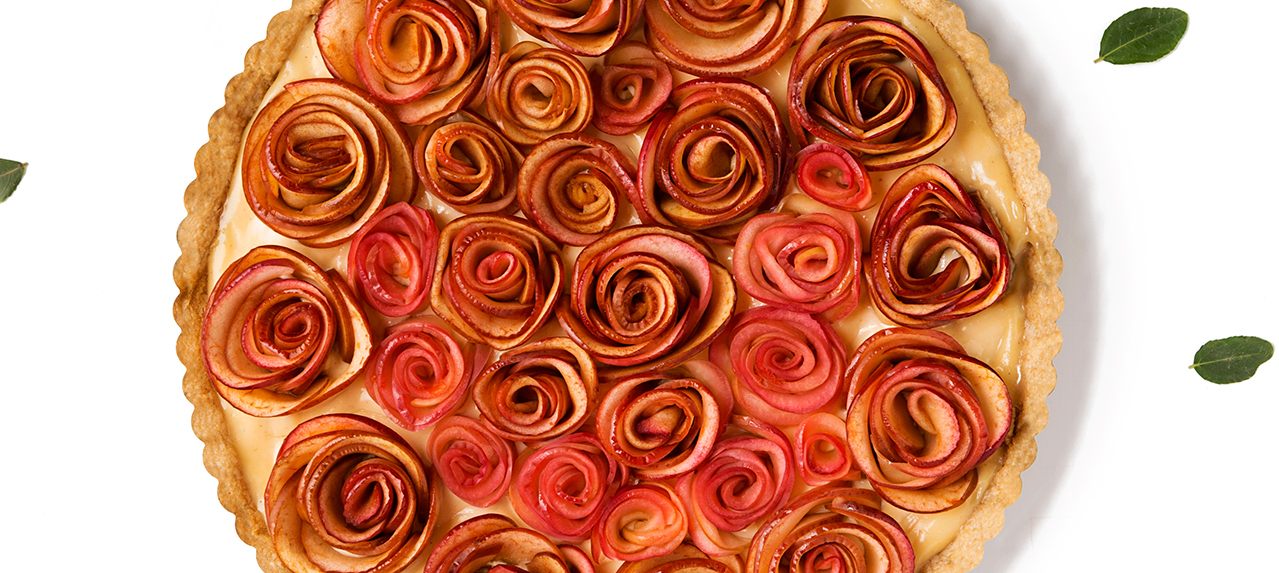 Crust
• 1 cup walnuts or pecans
• 1/3 cup granulated sugar
• 1¼ cups all-purpose flour
• 1 tbsp salt
• ½ cup softened unsalted butter, cut into small pieces
• 1 egg yolk
• 1 tbsp vanilla
Apple roses
• 4-5 medium red apples
• 2-3 tbsp lemon juice
Custard
• 1½ cups milk
• ½ cup heavy cream
• ¼ tbsp ground cinnamon
• ¼ tbsp salt
• 2 cinnamon sticks
• 1 whole vanilla bean, scraped
• ½ cup granulated sugar
• 2 egg yolks
• 3 tbsp cornstarch
• 2 tbsp unsalted butter
Glaze
• 3 tbsp apricot jam
• 2 tbsp water
1. For the crust, in a food processor, process the pecans with the sugar until finely ground. Add flour and salt; pulse to combine. Add butter over the flour mixture and pulse 5 times. Beat yolk and vanilla in a small bowl and drizzle over dough. Pulse until dough just comes together. Knead dough a few times, wrap in plastic and chill for 1 hour.
2. Pre-heat oven to 165°C. Grease a 23cm tart pan with a removable bottom. Press dough evenly over the pan. Freeze for 30 minutes. Then place on middle rack of oven and bake until golden brown, 30-35 minutes. Remove from oven. Let cool completely.
3. For the custard, in a medium saucepan combine milk, cream, ground cinnamon, salt, cinnamon sticks, scraped vanilla beans and pods. Heat to simmering, cover, and set aside to steep for 20 minutes.
4. Once steeped, remove cinnamon sticks and vanilla bean pod. Heat again to barely simmering. Meanwhile, in a medium bowl whisk together the egg yolks, ½ cup sugar, and cornstarch. Continuously whisking, very slowly pour the hot milk into the yolk mixture.
5. Once fully combined, return mixture to saucepan and cook over medium heat. Cook, stirring vigorously until mixture begins to thicken. Immediately pour through a fine sieve and stir in butter. Cover the custard with plastic wrap and chill.
6. For the apple roses, fill a large bowl with cold water and lemon juice. Cut apple away from the core in four large chunks, and using a sharp knife cut each chunk into very thin slices and place in lemon water. Drain the water and microwave until pliable (3 minutes) and set on a plate to cool.
7. Place 8 slices of apple in a row with the ends overlapping and the peel all facing the same way. Gently roll up the apples into a rosebud shape. Pick up the bud and continue wrapping apple slices around rosette until desired size is achieved.
8. Place finished rose in a paper-lined muffin tin to help keep their shape while the rest are rolled. Pre-heat oven to 175°C.
9. Layer cooled custard into baked shell. Place apple roses over custard. Bake tart for 15 minutes. Cool tart on a wire rack. Microwave jam and water in a small bowl for 1 minute or until dissolved. Brush gently over cooled tart.