Serves 6 persons | Preparation time 30 mins | cooking time 45 mins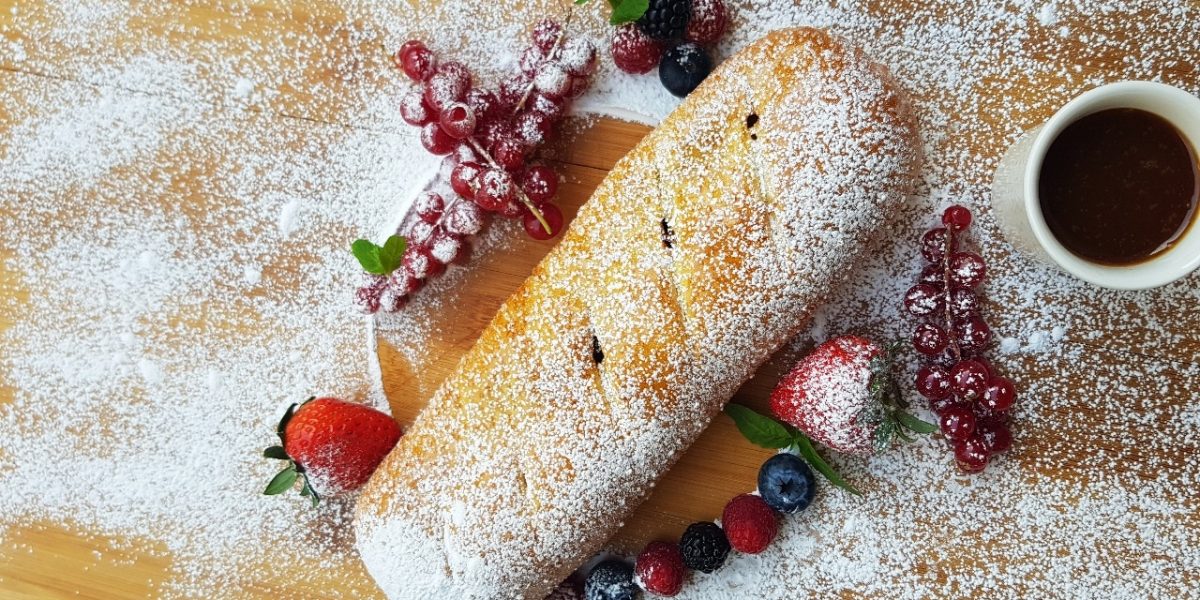 150 g green apples, peeled and sliced
70 g granulated sugar
2 g cinnamon powder
25 g brandy
60 g dry grapes
Pinch salt
40 g walnuts, finely chopped
20 g Pine nuts, finely chopped
5 phyllo pastry sheets
60 g unsalted butter
30 g panko bread crumbs
30 g icing sugar
Fresh red berries for deco (option)
40 g caramel sauce (option)
Over medium heat in a large skillet, combine the apples, butter, granulated sugar, cinnamon, brandy, dry grape and salt. Cook for 10 to 12 minutes, stirring frequently, until the liquid from the apples dissolves and the apples are soft. Stir in the walnuts and pine nuts. Set aside to cool.
Preheat the oven to 180°C and set an oven rack with baking sheet.
Place one phyllo sheet on a clean work surface with the long side facing you. Brush the sheet with melted butter.
Layer with four additional phyllo sheets; brush each layer with the melted butter.
Spread the panko in the middle of the phyllo.
Spread the apple mixture on top of the panko.
Fold the sides of the phyllo over the filling and then fold the bottom edge of the phyllo over filling.
Roll up jelly-roll style and carefully transfer to the prepared baking sheet. Brush the top of the strudels with the remaining butter.
With a sharp knife, cut diagonal slits in 2-in intervals through the top layers of the dough just to the filling.
Bake until the strudels are golden brown, about 30 minutes. Let cool for at least 20 minutes.
Transfer the strudels to a cutting board and decorate with fresh berries. Dust with icing sugar, then serve warm.
Tip:  you can serve it with caramel sauce aside.