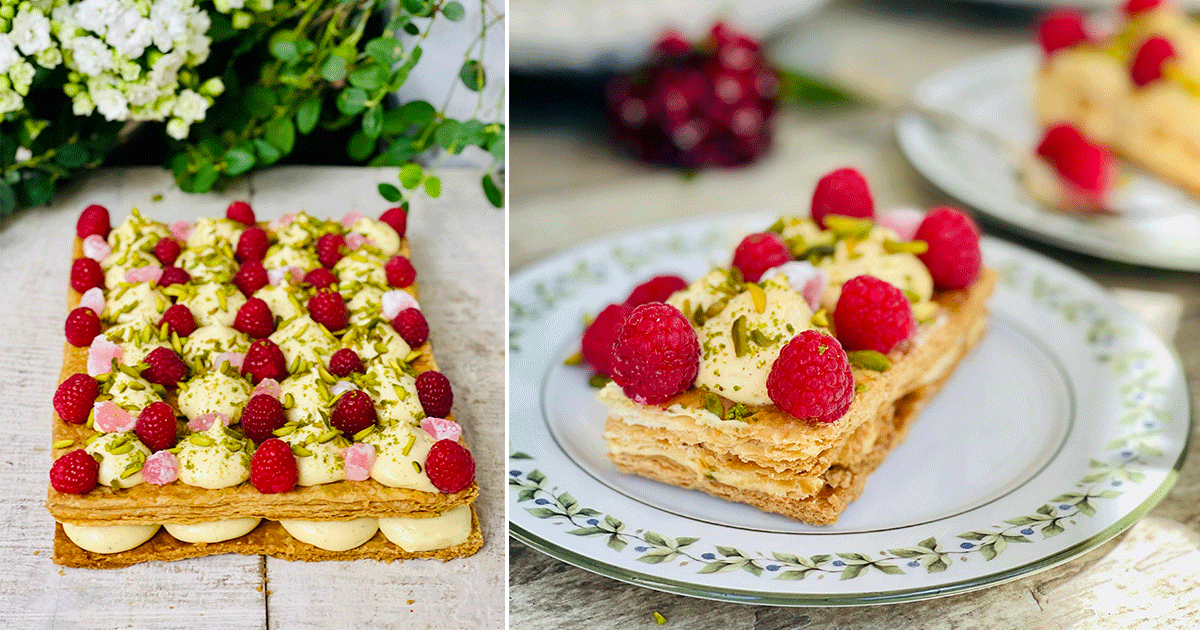 For the quick puff pastry
240g all purpose flour
1/2 tsp salt
1/2 tsp baking powder
227g cold butter cut into pats
113g sour cream or yoghurt
For the pistachio pastry cream
400 ml milk
1 vanilla pod or vanilla extract
4 egg yolks
80g sugar
35g of a combination of flour and corn flour
200ml whipping cream
2 tbsp powdered sugar
1/4 cup pistachio paste or ground pistachios
2 tbsp orange blossom water
6g gelatin
For garnishing
Slivered pistachios
1 cup fresh raspberries
Ground pistachios
3 roses flavored Turkish delights cut into small pieces
For the puff pastry
Whisk the flour, salt, and baking powder.

Add the cold butter and work it in with your fingertips until you get a crumbly mixture. The butter should remain in large pea-sized pieces. 

Add the sour cream and mix until you get a shaggy dough.

Turn it out onto your floured counter top and bring it together gently . Cover and refrigerate for 20 minutes. 

Roll it into a 20 x 25 cm rectangle, fold it into 3 like a business letter. 

Flip it, turn it 90°C and roll it into a 20 x 25 cm rectangle. Fold again it into 3. 

Refrigerate for at least 30 minutes. 

Preheat the oven to 180°C.

Divide the dough into 2 pieces and roll them into 2 large 25 x 35 cm rectangles. 

Transfer the dough onto a lined baking sheet. Prick it all over with a fork and sprinkle with powdered sugar. Bake for 10 minutes in a 200°C preheated oven. Remove it from oven cover with a sheet of parchment paper and a second baking tray. Bake it for another 18 to 20 minutes or until golden brown. Remove it from the oven and leave it to cool completely on a wire rack. 

For the pastry cream
Soak the gelatin in cold water 

Heat the milk with the vanilla pod. Remove the vanilla pod, scrape the vanilla beans and put back into the milk. 

In a bowl, whisk the egg yolks and the sugar until pale in color. Whisk in the flour and corn flour. 

Pour a little hot milk over the egg mixture while whisking briskly. Pour the mixture back into into the hot milk and while whisking constantly, heat it until it thickens and start boiling. 

Remove from heat and add the squeezed gelatin paper and whisk until well incorporated. Cover directly the surface of the cream with a plastic wrap and refrigerate for at least 3 hours. 

Whip the whipping cream with the powdered sugar until they reach firm peak. 

Once chilled whisk the pastry cream until smooth. Add the orange blossom water and the pistachio paste, whisk until well incorporated. 

Fold in gently the whipped cream in 3 additions. 
To assemble
Trim the edges of the puff pastry 

Pipe the cream on the first pastry layer. Cover with the second layer and pipe the rest of the cream. 

Garnish with the raspberries, pistachios and Turkish delights. 
RECIPES BY CHEF LES SECRETS DE MAHA