Refrigerators are often messy and confusing, and it seems like an impossible task to try and sort it all out. With this guide, watch your refrigerator go from an array of food to a neat storage space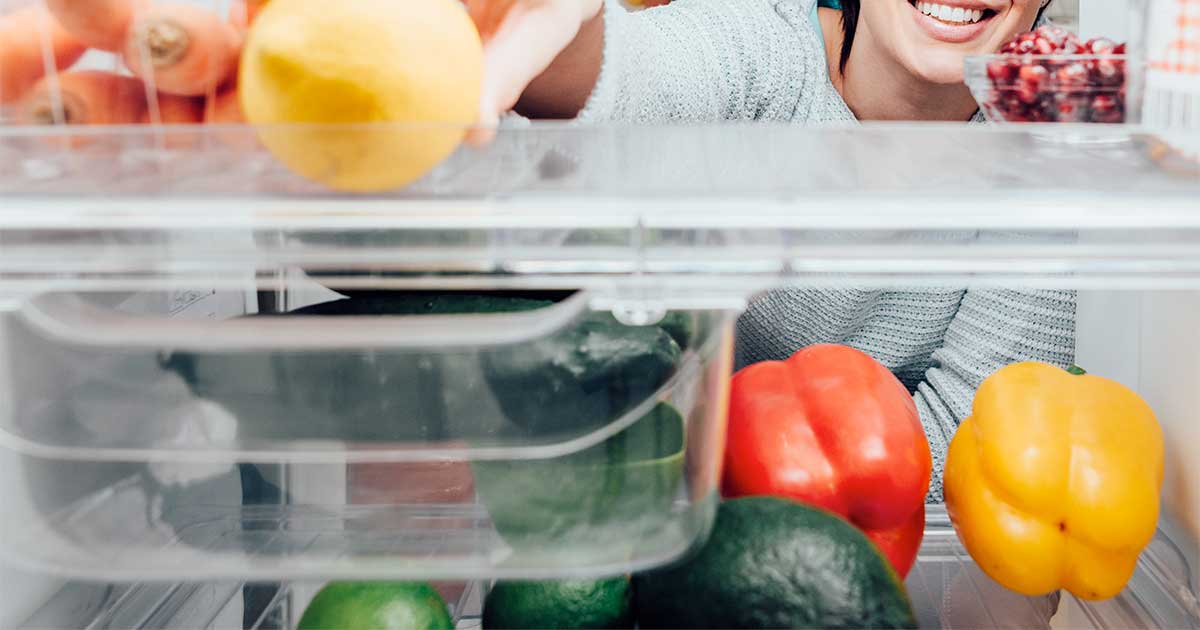 FIRST THINGS FIRST
Take everything out of the fridge. You must start with the fridge completely empty so this can work. Throw out all unused/expired foods.
Put the butter and cream cheese into the door of the fridge. A covered section can usually be found at the top of the door but if not, put it on the top shelf.
In the remaining shelves on the door, place your sauces, dressings, condiments and cheese.
Put your drinks on the largest shelf on the inside of your fridge, since they are usually the tallest items you will store. This is usually at the top on the inside panel. Now separate the rest of your food. You will often have yogurt, cream, eggs and similar food products. Put them together on a shelf. Put all the 'leftovers' on another shelf. Use up the remaining shelves by putting food products that are similar.
There will usually be at least two drawers in the bottom of the fridge. Put vegetables like lettuce, herbs, tomatoes and peppers in one and fruit in the other. Most fridges have a third smaller drawer where you put meat that doesn't need to be frozen like cold cuts, sausages and pepperoni.
There are also many gadgets and techniques that can help to organize the many items that we store in our refrigerators. This will help to keep your fridge cleaner, as well as prevent items from being pushed to the back and getting forgotten. Here's some we liked
CAN DISPENSER
Use can dispensers to keep soft drinks in line. If you routinely keep more than one type of canned drink in the refrigerator, combine two or more types of drink on one dispenser to save room.
GREEN BAGS
Green Produce Bags are special bags used to store produce that are designed to keep fruits and vegetables fresher, longer.
ROLLOUT CADDY
Put an end to lost items in the furthest reaches of the fridge by getting a roll-out caddy. These simple, ingenious trays sit on glass shelves and easily slide in and out on wheels, making every inch of space easily accessible. It offers a convenient way of adding additional "drawers" to organize the items in your fridge.
REFRIGERATOR SHELF LINER
If you have small children or just a spell of clumsiness, a shelf liner may be the perfect answer. These specially designed liners prevent spills from falling to lower shelves. They are simply placed on top of the shelf and are easily removed by pulling them out for cleaning.
FRIDGE TURNTABLES
Great for accessing a wide variety of items in a small area and by using one that spins, you can keep even small items within easy reach! Be sure to find one with rubber suction cups if you have glass shelves or brackets to hold it steady on wire racks.
REFRIGERATOR DRAWER
Ever wish you had more compartments to organize your fridge? Now you can add your own drawers too! Quickly and easily add a drawer to your space with this slide out drawer. Suction cup base keeps it still, and the sliding feature brings everything in the drawer within reach.
SMALL PLASTIC BINS OR BASKETS
Group similar items together in small bins or baskets making them easier to find when they're in a single location.
ORGANIZE LEFTOVERS
Leftovers can quickly get out of hand and be hard to identify after time. Designating a shelf just to leftovers will help to prevent them from getting pushed back into a corner. Use masking tape and a marker to put the date and contents on leftovers before refrigerating them. Knowing what's in each dish and when to toss it at a glance will be a big help in keeping your refrigerator organized!
RE-CATEGORIZE EXISTING SPACES
Refrigerators are designed with specific compartments for specific items however, if it doesn't fit your needs, re-categorize it. If your meat/cheese drawer isn't large enough, switch it with a produce/crisper drawer. The only caution is raw meat. You will want to keep this location either on a bottom shelf or in a bin to keep it from dripping and contaminating other foods. Group your items together in logical groups and find spaces that they will fit in.
LABEL EVERYTHING
Put erasable, removable labels on all your containers. Bins on low shelves have clear lids so you can see contents from above.
MATCHED STORAGE
In the freezer, use compact, airtight plastic containers that stack.