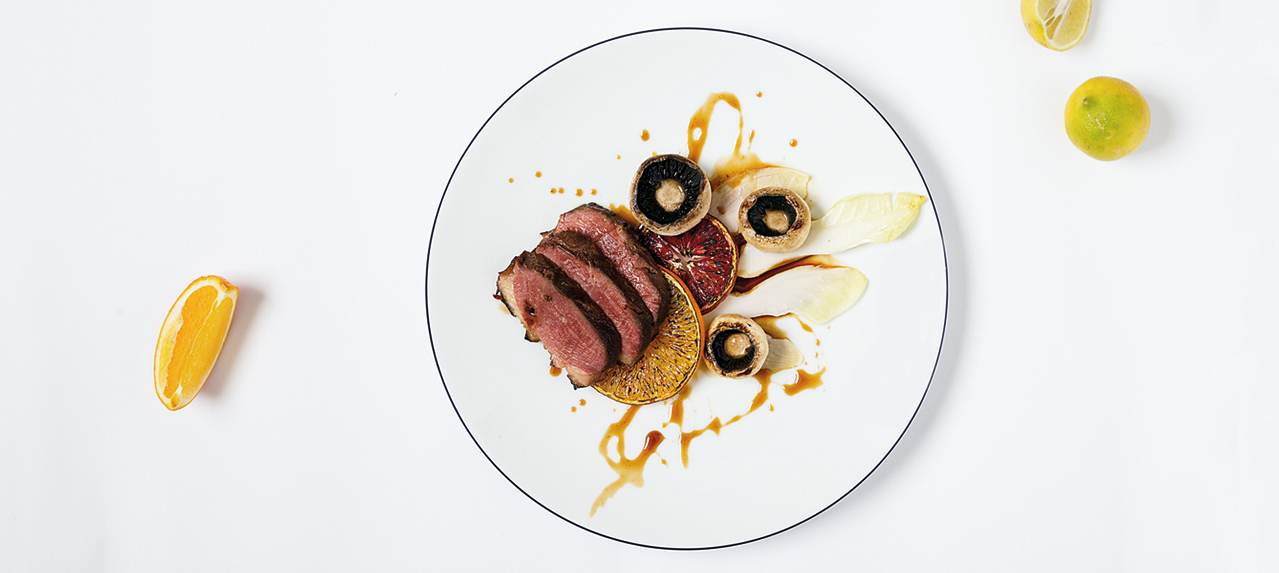 • 2 duck breasts
• 1 cup honey
• 2 cups soy sauce
• 1 cup cold black coffee
• ¼ cup finely chopped fresh ginger
• ¼ cup miso paste
• 1/3 cup brown sugar
• 2 star anise
• 1 cinnamon stick
• 1 orange, halved
• 1 lemon, halved
• 10 mushrooms, stemmed & peeled
• 2 tbsp Mirin (Japanese sweet wine)
• 2 tsp sesame oil
1. Pierce the duck skin using a fork to allow the marinade to penetrate and score the duck fat with a knife to allow the fat to drain. Set aside.
2. For the marinade, combine honey, soy sauce, coffee, ginger, miso paste and brown sugar in a bowl and stir well. Squeeze the citrus juice (from the orange and lemon) into the bowl.
3. Pour 1/3 of the marinade in a zip lock bag with the duck breast and keep for a minimum of 3 hours in the fridge. For the sauce, pour the rest of the marinade in a sauce pan and add the star anise, cinnamon stick and black pepper.
4. Bring to the boil, then let it simmer on low heat until reduced and thickened for about 10 minutes. Set aside. Remove the duck from the fridge, no less than 3 hours later.
5. Pat dry with a paper towel and place in a pan over medium heat, skin side down. Cook the breast until the skin is crispy and most of the fat has rendered. This could take up to 12 minutes.
6. Remove the excess duck fat from the pan and keep 2 tablespoons aside.Turn the breast over, and place in a pre-heated oven for 10 minutes.
7. Meanwhile, drizzle sesame oil and reserved duck fat over a hot pan and fry the mushrooms. Season with salt and pepper then drizzle with Mirin until slightly wilted. Set aside.
8. Remove the duck breast from the oven, allow it to rest for a few minutes. Serve with mushrooms and drizzle with sauce.