Serves 8-  10 | Prep/cooking 45 mins (prepare the dough before)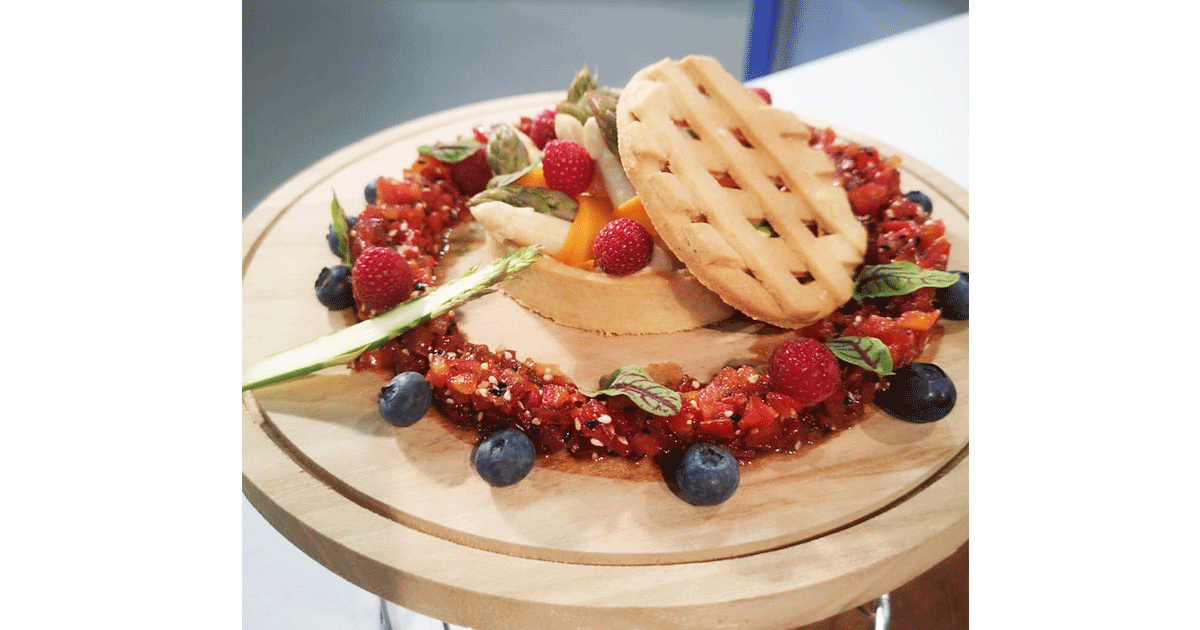 TART DOUGH
500g all-purpose flour
200g butter
1 egg
15g salt
10g sugar
FILLING
500ml fresh cream
3 egg yolks
100g parmesan
100g cream cheese
2 bunch fresh green and white asparagus trimmed
Salt and white pepper
TOMATO SAUCE
500g virgin tomato
50g brown sugar
10ml balsamic vinegar
The dough: In a food processor, combine the flour, salt, and butter. Using short pulses, process until the mixture resembles oatmeal. Add the ice water and pulse quickly until the mixture begins to come together don't let it actually form a ball. Transfer the mixture to a lightly floured surface and gather it into a ball with your hands. Gently flatten the ball into a smooth disk about 4 cm thick and wrap it in plastic or foil. Refrigerate until firm enough to roll, at least 1 hour.
Fill a large bowl with ice water. Bring to a boil. Add the asparagus; cook until bright green and crisp-tender, 2 to 5 minutes. Drain and transfer to the ice water to stop the cooking. Preheat the oven to 200 °C.
Transfer the dough to a parchment-lined baking sheet and prick all over with a fork. Bake until light golden brown, about 12 minutes. Let cool slightly on the baking sheet.
Meanwhile, mix the fresh cream, egg yolks, Parmesan, cream cheese and a pinch each of salt and pepper in a bowl until combined. Spread the cheese mixture evenly over the puff pastry, leaving a 1-inch border on all sides. Toss the asparagus with the olive oil, 1/4 teaspoon salt, and pepper to taste. Arrange the asparagus on the tart and bake until the cheese mixture is slightly puffy, 15 to 20 minutes. Serve warm or at room temperature.