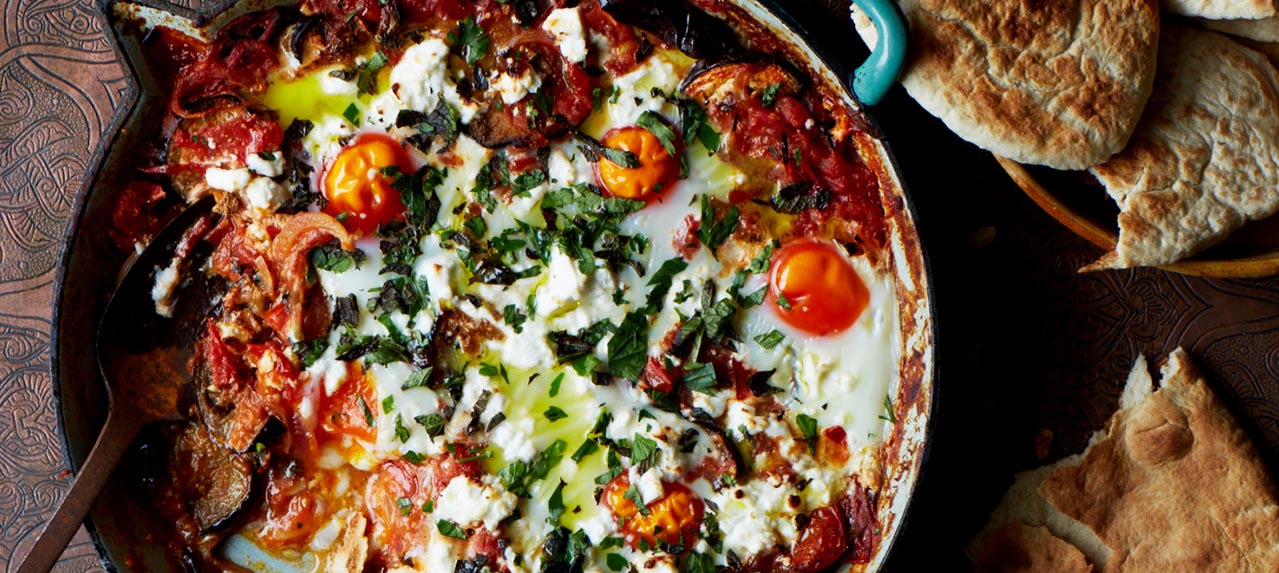 Olive oil for frying
2 large aubergines, sliced into rounds
½ red onion, sliced
1 garlic clove, finely chopped
8 large tomatoes on the vine, chopped
125ml tomato juice
½ tsp salt
½ tsp black pepper
½ tsp cumin (optional)
6 large eggs
100g feta cheese, roughly chopped
To serve:
A few parsley springs and a large mint spring
Warm pitta bread
1. Preheat the oven to 220°C/200°C fan/gas mark 7.
2. Heat 1 tablespoon of oil in a large frying pan.
3. Season the aubergine slices and fry them in batches for 3-4minutes on each side, until golden and tender, adding more oil as necessary.
4. Transfer the slices to a plate as they are cooked.
5. Heat 2 tablespoons of oil in the medium frying pan and sauté the onion gently over a low-to-medium heat for about 8 minutes, stirring every now and then, until softened.
6. Stir in the garlic and cook for a further minute.
7. Tip the tomatoes into the pan along with any juice and stir into the onion.
8. Cook for 8 minutes until the tomatoes have broken down and softened – they should be a pulp.
9. Pour in the tomato juice and cook, again over a low heat for 5 minutes.
10. The sauce will be quite thick by this stage. Season with salt, black pepper and cumin, if using.
11. Spread a layer of aubergine slices over a large, ovenproof dish, then spoon over half the tomato sauce. Repeat to make two layers.
12. Make a hole in the sauce with the back of large spoon and crack an egg into it.
13. Do the same all around the dish until you've positioned all the eggs.
14. Scatter over the feta. Bake in the oven for 5 minutes.
15. Pick the leaves off the parsley and mint springs, ad chop roughly. Scatter over the shakshuka and serve with the warm pitta bread.