AUSTRALIAN LAMB SATAY KAMBING WITH PEANUT SAUCE
Serves 6| Preparation time 15 mins | Cooking time 10 mins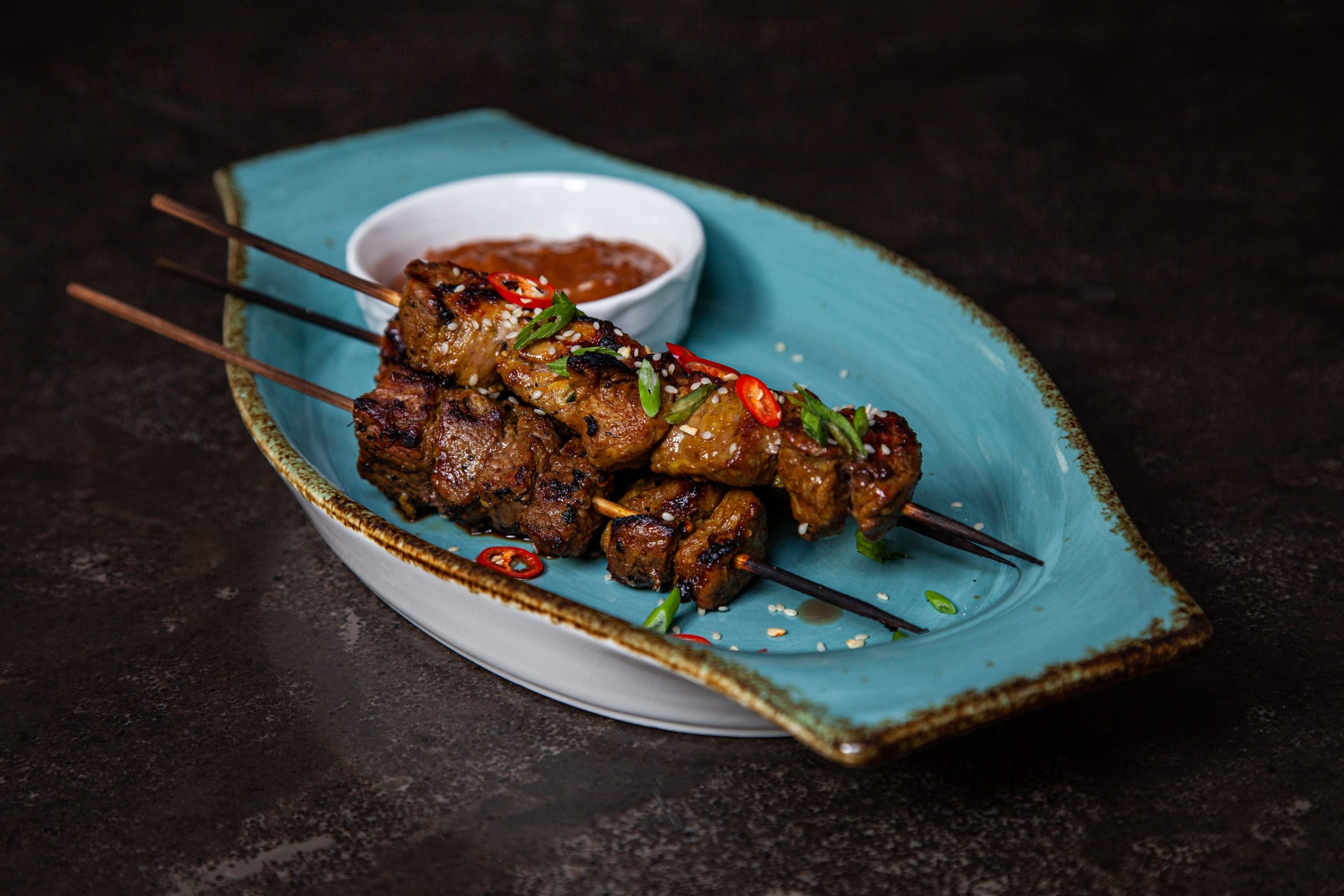 1 kg Australian lamb fillet cut into cubes (2cm approx.)
¼ cup coconut milk full fat
2 tbsp. Kecap manis
1.5 tsp. turmeric powder
4 cloves garlic
1 tbsp. freshly grated ginger
1 tsp. cumin powder
1 tbsp. brown sugar
1 tsp. coriander seeds
1 tbsp. vegetable oil
1 tsp salt
½ tsp pepper
For the peanut sauce
3 tbsps. creamy peanut butter
1 tbsp. reduced sodium soy sauce
1 tbsp. freshly squeezed lime juice
2 tsp. brown sugar
2 tsp. chili garlic sauce, or more, to taste
1 tsp. freshly grated ginger
PEANUT SAUCE
Whisk together peanut butter, soy sauce, lime juice, brown sugar, chili garlic sauce and ginger in a small bowl.
Whisk in 2-3 tablespoons warm water until desired consistency is reached; set aside.
AUSTRALIAN LAMB SATAY KAMBING
Combine and blend all coconut milk, Kecap manis, turmeric, cloves garlic, ginger, cumin, brown sugar, coriander, salt and pepper to form a paste.
In a large bowl, combine lamb cubes and add to the previous mixture, cover and marinate in the fridge for at least 2 hours to overnight.
Thread the lamb cubes onto the skewers. Brush with vegetable oil before grilling.
Prepare your BBQ and coals to about a medium heat. Place the cast iron skillet directly onto the coals.
Heat 1 tbsp. vegetable oil in a cast iron grill pan. Place the skewers into the skillet and cook approx. 4-5 minutes each side flipping as needed. They are done once there is nice caramelization to the meat. Cook longer for well done. Serve with the peanut sauce aside.