BAKED LEMON & PINEAPPLE CHEESECAKE
Makes 1 | Prep/baking time 1h 30 mins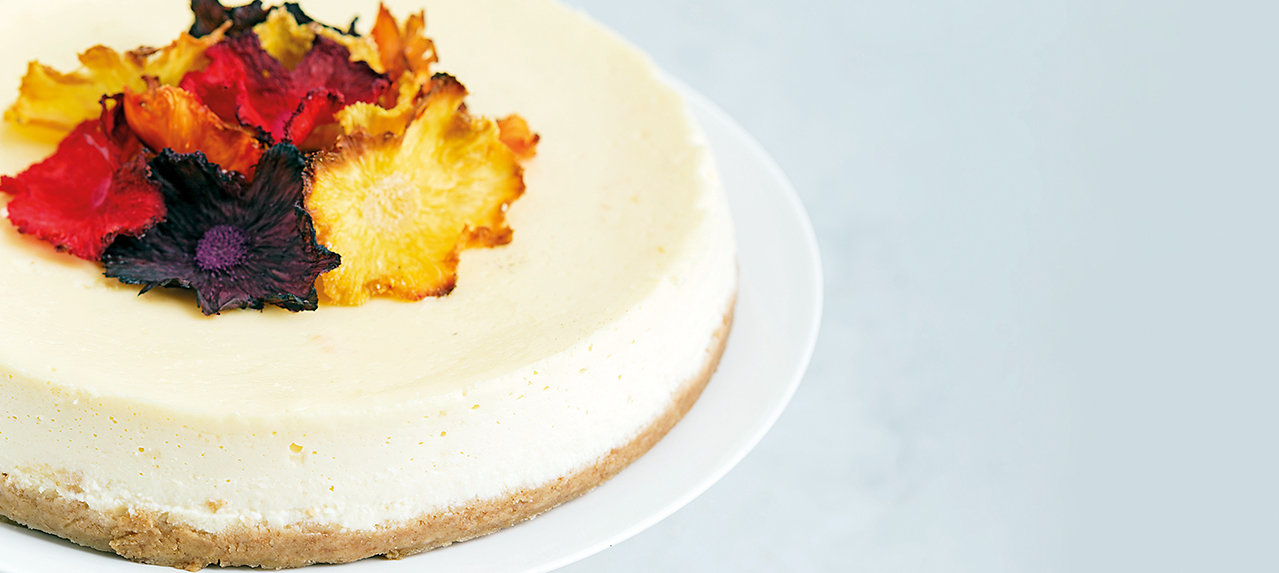 For the crust
• 75g unsalted butter, melted, plus room temperature butter for pan
• 2 cups crumbled digestive biscuits or graham crackers
• ¼ cup sugar
• ¼ tsp coarse salt
For the filling
• 1.1kg cream cheese, room temperature
• 1 ½ cups sugar
• 1 tsp pineapple extract or essence
• 2 tsp finely grated lemon zest
• Juice of one small lemon
• ½ tsp coarse salt
• 4 large eggs, room temperature
• ¾ cup crème fraiche
1. Preheat oven to 190°C. Make the crust by buttering a 23 x 6 or 23 x 8cm spring form pan. Butter the pan completely and line the bottom of the pan with parchment paper cut to size. Wrap the outside of the pan with aluminum foil making sure the bottom and sides are completely covered, repeating with a second piece of aluminum foil.
2. In a food processor, pulse crackers until fine crumbs form; add melted butter, sugar, and salt, and pulse
to combine.
3. Press crumb mixture into bottom and about 2cm up side of pan. Gently press down on the crumbs using your fingers, until the crumbs are a nice even layer at the bottom of the pan, with maybe just a slight rise along the inside edges of the pan.
4. Bake the crust until set, 12 to 15 minutes; remove from oven, set aside and let cool on a wire rack. Reduce oven to 160°C.
5. For the filling, using an electric mixer, beat cream cheese on medium until fluffy, scraping down side of bowl. Gradually add sugar and then add the pineapple extract, beating until fluffy. Beat in lemon zest and juice, and salt. Beat in eggs one at a time, scraping down side of bowl after each addition.
6. Finally, beat in the crème fraiche. Pour cheesecake filling over the baked crust and place unbaked cake in a roasting pan or large casserole dish. Pour in boiling water around the cake to come halfway up side of spring form pan creating a bain-marie.
7. Bake until just set in center, about 1 hour 45 minutes. If cheesecake begins to crack it is finished baking. Remove pan from water and let cool 20 minutes. Then remove the foil and let cool completely in the
spring form pan.
8. Once cooled, cover spring form pan gently with cling film or foil and chill overnight before serving. Decorate with dried pineapple flowers.