Serves 5 | Preparation 1 hr
Kibbeh lakteen can be stuffed with seasonal greens along with the basic stuffing ingredients such as chickpeas, walnut and onions. If shaping the kibbeh into balls is difficult for you, opt for this pan-baked version which is easier to prepare and of course healthier!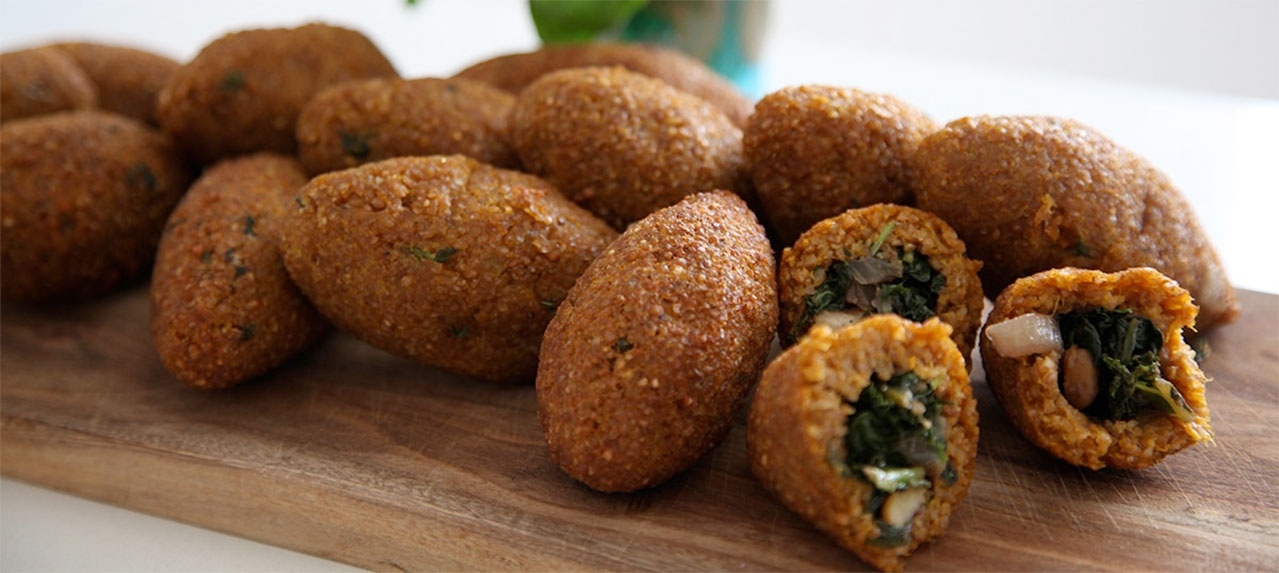 Dough
500g pumpkin, cooked, strained and mashed
2 cups burghol
1 tbsp all-purpose flour
Stuffing
1 ½ cup onion, chopped in julienne strips
½ cup chickpeas, cooked, peeled and drained
2 cups green leafy vegetables (chicory or spinach), boiled and strained
½ cup walnuts, toasted and chopped
¼ cup sour pomegranate seeds
3 tbsp sumac
Olive oil
Salt, pepper, all-spice to taste
1. For the dough, add the mashed pumpkin, the burghol, spices and flour in a mixing bowl.
2. Mix and knead well. You may need to add more flour if the pumpkin is still wet.
3. Add flour until the dough is no longer sticky.
4. For the stuffing, sauté the onions in a pan until soft and transparent using the olive oil.
5. Add the chickpeas, walnuts, pomegranate seeds, spices and the greens and simmer for 5 minutes.
6. Set aside.