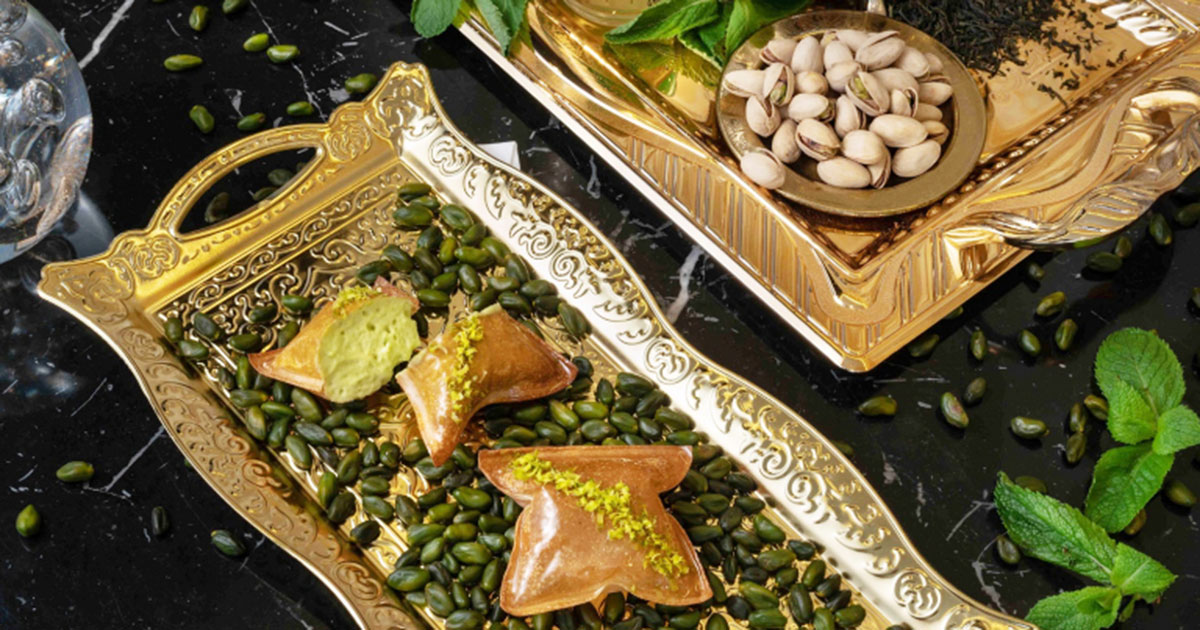 4 undamaged filo pastry sheets (30cmx60cm)
50g lightly melted unsalted butter
52g pure pistachio paste (we use Iranian pistachios to make ours)
120g milk
100g white chocolate
280g cold whipping cream
2g salt
40g orange blossom honey
5g orange blossom water
10g water (mineral)
1. Cut the pastry in to a squares 9cmx8cm.
2. Then take 1 square, brush the middle with a soft butter place the other sheet on top and seal the pillow with a thermo seal each side.
3. Then cook in oven one by one on 250ºC degrees it takes about 40 seconds each until it pops and gets a nice golden colour.
4. When the pillow is ready we make a little whole and fill it up with pistachio cream recipe below and brush with honey and orange blossom syrup, garnish with shaved toasted Iranian pistachios and serve immediately while it is crunchy.
5. In a bowl mix pistachio paste with melted white chocolate (do not overheat your chocolate).
6. Heat up milk in a small pot and then pour it on top of the chocolate and pistachio mix.
7. Add salt and cold whipping cream slowly by mixing it with hand blender.
8. Pour the mix in to syphon. 2 charges per syphon.