Serves 8 pers
Preparation Time 10 mins | Cooking Time 30 mins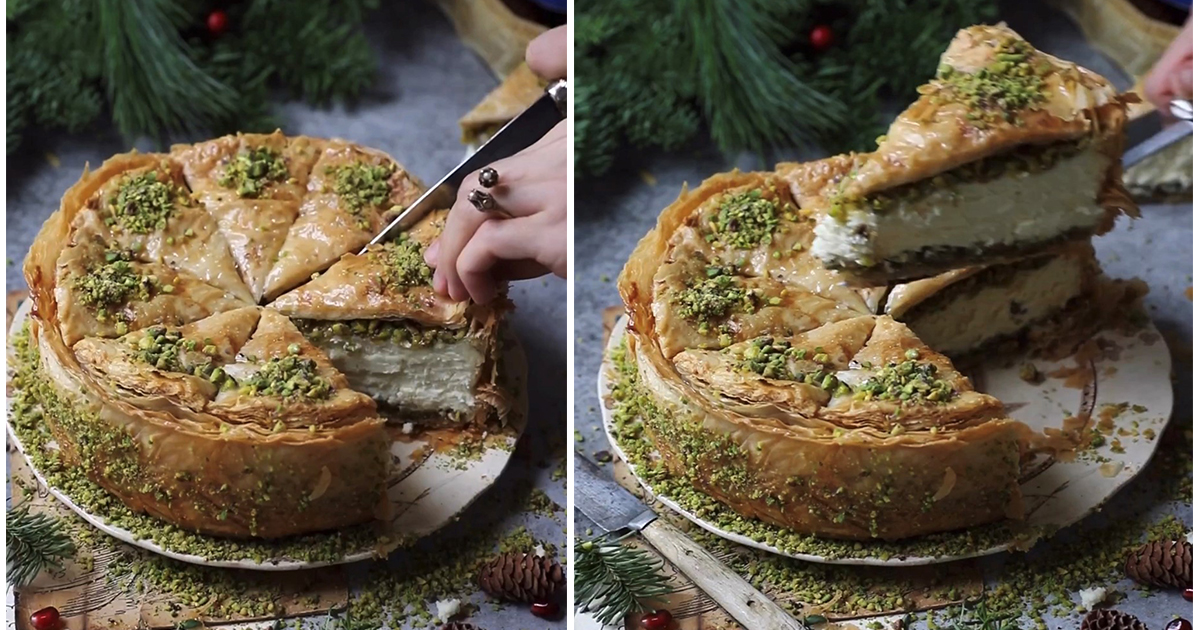 For the Baklava Layers
27 (9"x14") phyllo sheets
10 tbsp melted butter
1/4 cup granulated sugar
For the Pistachio Layers
1 1/2 cup chopped raw pistachio(or walnut)
4 tbsp melted butter
6 tbsp powdered sugar
For the Cheesecake
16oz/455g cream cheese (room temperature)
8oz/226g mascarpone (room temperature)
1/2 cup/110ml heavy whipping cream
3/4 cup/150g granulated sugar
3 medium eggs
2 tbsp/21g all-purpose flour
1 tbsp/10g cornstarch
For the Syrup
3/4 cup water
3/4 cup sugar
1 small slice of lemon
Preheat the oven to 200°C.
Starting with one sheet of phyllo dough, drizzle with 1/2 tbsp butter and sprinkle 1 tsp sugar. Add an additional sheet of phyllo dough on top and repeat until you have 6 sheets stacked.
Transfer the sheets of phyllo dough into an 20cm springform pan with the edges over the sides. Repeat this process with another 6 sheets of phyllo dough and then add to the pan crossing the other direction so the entire pan edge is covered.
Using a fork, poke the bottom of the dough. Bake for 5 mins.
Remove from oven and let cool. St aside.
Reduce oven heat to 160°C.
In a medium bowl, add chopped pistachios, powdered sugar, and melted butter and combine.
In a large mixing bowl, mix well all of the cheesecake ingredients: cream cheese, mascarpone, heavy whipping cream, sugar, eggs, flour, and corn starch.
Add half of the pistachio mixture into the springform pan over the base of the phyllo dough.
Using your hands gently press to the bottom. Pour the cheesecake mixture into the springform pan.