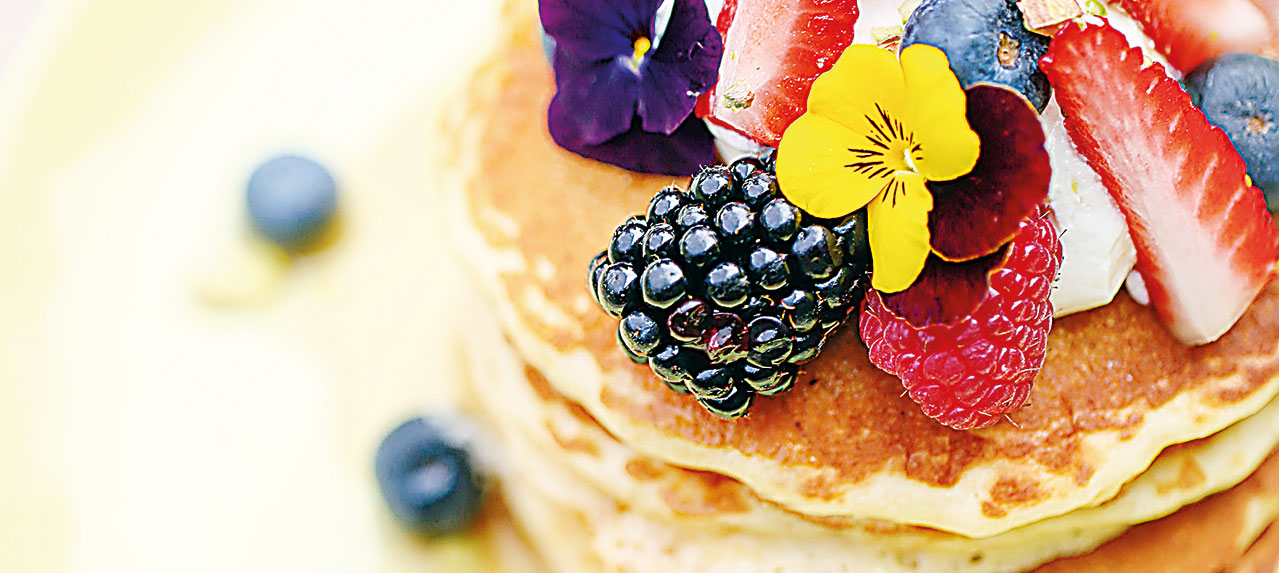 4 tbsp unsalted butter, plus more for cooking
1 cup milk
1 ¼ cup flour
1 tbsp sugar
4 tsp baking powder
½ tsp salt
2 eggs
2 ripe bananas
1 cup labneh
¼ cup powder sugar
1 cup maple syrup
2 tbsp orange blossom water
¼ cup chopped pistachios
1 cup chopped strawberries
1 cup mixed red fruits
(raspberries, blueberries…)
1. Heat milk and butter until butter has melted. Set aside to cool slightly.
2. In a large bowl, mix flour, sugar, salt, baking powder.
3. In a small bowl mash bananas, add in eggs and milk butter mixture. Pour over dry ingredients mixture and mix until combined.
4. Heat pan over medium heat, put in ½ tsp butter for every pancake. (Tip: to get consistent and perfectly round pancakes, use a ice cream scoop to pour batter in the pan.)
5. Whisk labneh with the powder sugar to obtain a smooth cream. Mix maple syrup and orange blossom
water together.
6. To plate, stack three to five pancakes per person, top with a spoon of the labneh mixture, garnish with fresh fruits and pistachios. Finish with a drizzle of the orange blossom maple syrup.