BANANA PIE CHOCOLATE TRUFFLE
Serves 6 | Prep. Time 60mins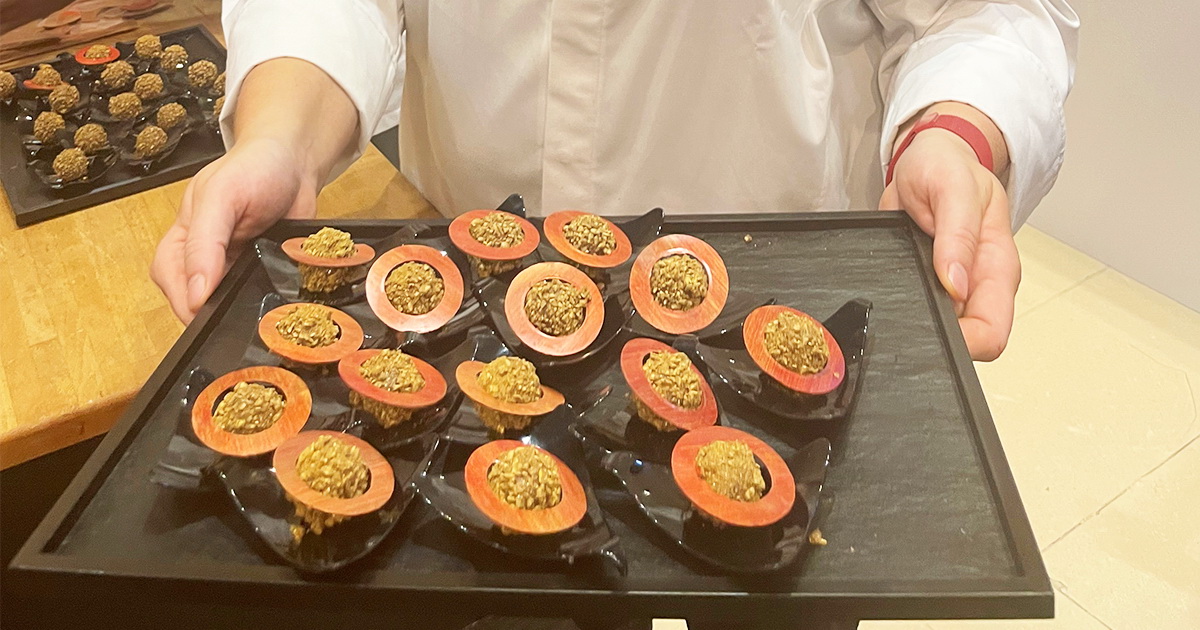 BANOFFEE BANANA GANACHE
300g Alunga milk chocolate
75g Callebaut caramel chocolate
75g whipping cream
110g Dulche de Leche (caramelized condensed milk)
25g glucose syrup
150g banana buree
60g butter at room temperature
TRUFFLES
Milk chocolate truffle shells
Gold powder
Cara Crakline
Gruentine crunch
Colored cocoa butter
BANOFFEE BANANA GANACHE
Boil the whipping cream with the glucose syrup,  Dulche de leche and the banana puree.
Pour the boiling liquid over the chocolate chips. Wait for 1-2 minutes and blend the mixture with a stick blender, keeping the mixer always below the surface.
Add the butter and blend again until the mixture is well emulsified.
TRUFFLES
Mix the gold powder with the Gruentine crunch.
Pipe a little bit of Cara Crakline into the truffle shells. When the ganache has cooled down, pipe into the truffle shells. Let the ganache set for at least 6-8 hours to crystalize but ideally overnight.
Then cover the truffle shells with tempered milk chocolate. Once the chocolate has set and the truffle shell is fully closed, take a bit of tempered milk chocolate into your hands and roll the chocolate truffle in it. Then place the chocolate truffle into the golden Gruentine crunch and roll it until it is fully covered with Gruentine Crunch.
Set aside until the chocolate has hardened, then place the chocolate ring on it and enjoy.