FIVE MINUTES WITH BARBARA ABDENI MASSAAD
Cookbook author, photographer, food consultant and activist
Barbara Abdeni Massaad is a food writer, TV host, cookbook author, and a regular contributor to international cooking magazines. She is the author of Interlink's bestselling cookbook Man'oushe: Inside the Street Corner Lebanese Bakery. She won the the Gourmand Cookbook Award and the International Academy of Gastronomy Award for Mouneh: Preserving Foods for the Lebanese Pantry.
Born in Beirut, Lebanon, she moved to Florida at a young age. She gained her real culinary experience while helping her father in their family-owned Lebanese restaurant, Kebabs and Things. She is also a founding member of Slow Food Beirut and an active participant in the International Slow Food movement.
Barbara Abdeni Massaad you are not only a talented chef, photographer and a storyteller, how are you able to use food and photography to tell stories?
Our local Lebanese food has always fascinated me, since I was a child growing up in the USA. Working at my father's restaurant, we portrayed Lebanon through our dishes as ambassadors to our culture and homeland. My father was a professional photographer in the 70's influencing me to express myself through photography. Basically, I combined both passions to tell stories and develop recipes while traveling all around Lebanon, meeting beautiful and hospitable cooks, farmers and small-scale producers. It was my way to delve into the culture of Lebanon and meet the "real" people of Lebanon.
You've published award-winning cookbooks, What inspires you when preparing a recipe book?  
Writing cookbooks is not an easy task, especially when you undertake both the writing and the photography. It takes a lot of discipline, determination, and passion. My inspiration comes from the adventure I undertake when visiting local food makers and visiting all regions of Lebanon. Lebanese hospitality has been the drive to help me document our food, tell stories and photograph every detail of the journey. When the book is finalized, I sometimes feel sad as this particular theme has come to an end and I must search for another one to regain my creative "muse". The book will have its own life, once published. It is no longer mine. You can compare it to giving birth to a child.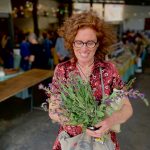 What is the importance of Mouneh as a Lebanese heritage?
Mouneh is an essential element to our culinary heritage. My book on the subject took me 5 years of research, as the opportunities to learn are endless. Basically, mouneh is a way to live in accordance to the seasons and to preserve the abundance of a harvest, safeguarding a perishable good to last longer. Our ancestors lived according to those principles. I feel very strongly about keeping these traditions alive for future generations.
You are also a food consultant, developing menus and training local and international chefs in the proper preparation of Lebanese food. What are some of the top tips for a successful Lebanese dish?
Consulting has been a very rewarding job. Before I undertake a project, it is essential for me to "love" the project and to make sure my client is on the same wavelength. I start by visiting the country or region to better understand the ingredients involved to create a menu, sourcing the best.
What are your latest projects?
A new cookbook: After the Beirut blast on Aug 4 2020 and the pandemic which followed, I needed a project to help me heal. With the support of my publisher, Interlink Books, I took the challenge to write and photograph a new cookbook entitled Forever Beirut – Recipes and Stories from the Heart of Lebanon. This cookbook will support the Lebanese Food Bank, a worthy organization that is helping families in dire need of food after the devastating blast of August 2020 and ensuing economic collapse.
COOKBOOKS BY BARBARA MASSAAD