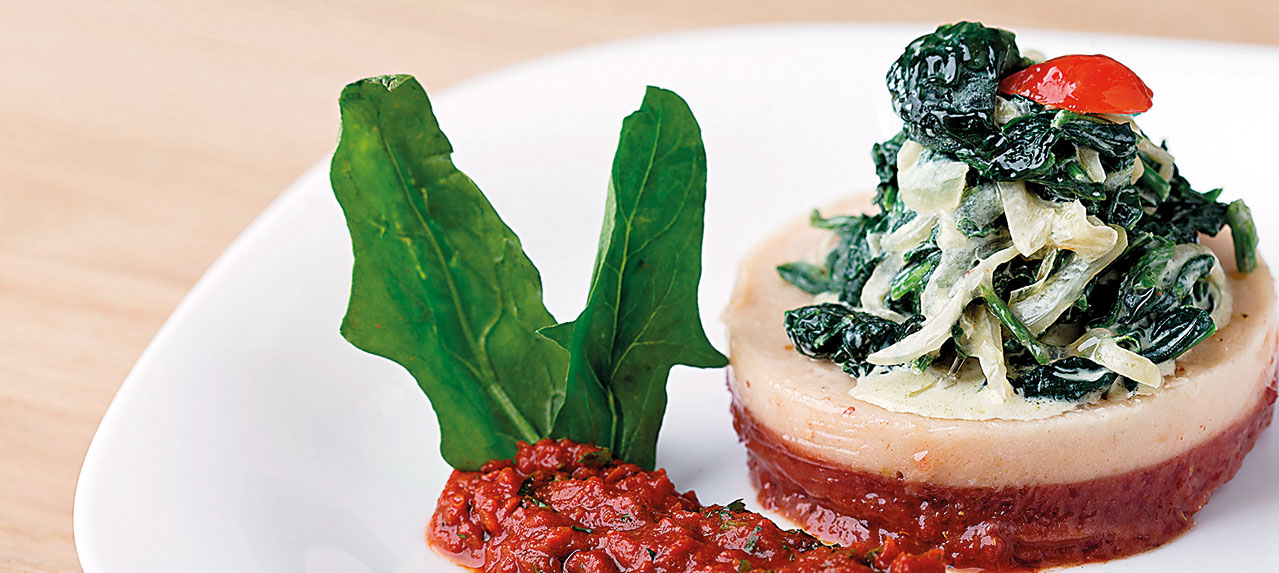 75g cooked red beans
75g cooked white beans
7g onion powder
3g garlic powder
1g dried coriander
30g chopped onions
1 minced garlic
75g fresh fine spinach
1 tsp olive oil
1 cup rice milk
White pepper
Nutmeg
Salt
Sauce
45g chopped red onions
2 pieces minced garlic
25g very fine fresh coriander
1 tsp olive oil
3 medium red tomatoes blended
6 pieces cherry tomatoes
Dry coriander
White pepper
Salt
1. Heat the oil in a large pan over medium high heat to make the sauce. Add chopped red onions, minced garlic, dry coriander and white pepper and stir for 2 minutes. Add the fresh coriander and blended tomatoes. Reduce the heat and simmer covered until the liquid is reduced. Cut the cherry tomatoes in half and add them to the sauce.
2. In a separate hot skillet, sauté the spinach with olive oil, chopped onion, minced garlic, a pinch of nutmeg and white pepper.
3. Add rice milk to the sautéed spinach, reduce the heat and keep boiling for 7-10 minutes until
the liquid is reduced.
4. Separately blend the beans with dry coriander, salt, nutmeg, onion powder and garlic powder.
5. Use a stainless circle mold (diameter: 8-10 cm ) for serving. Spread a layer of mashed red beans at the bottom of the mold. Add a layer of the mashed white beans then cover with the sautéed spinach. Garnish with the coriander tomato sauce and serve.