Serves 1 | Prep/cooking time 48mins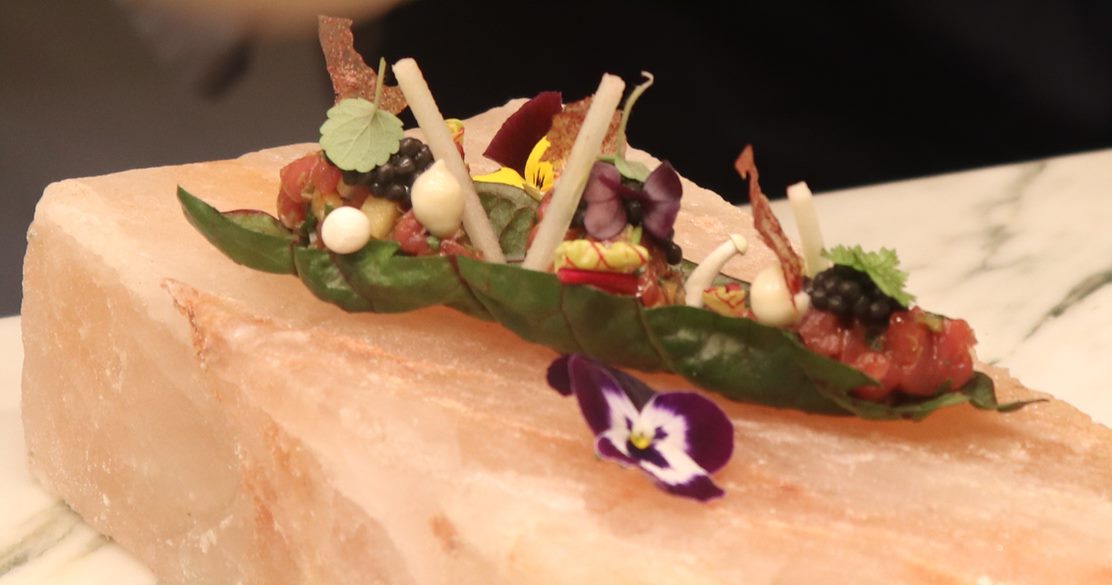 60 g beef tenderloin
5 g beluga caviar
1 g shimeji mushrooms
0.5 g parsley
0.5 g chives
1 g shallot
5 g purple swiss chard
2 pcs eatable flower
3 leaves micro green
100 g potato
tartar sauce
5 egg yolk
3 ml grapes oil
2 g dijon mustard
1 pinch pink salt
1 pinch fresh crushed black pepper
vegan mayo
3 g yellow raisins
2 g apple cider vinegar
5 macadamia nuts
1 pinch pink salt
10 ml soft water
3 ml avocado oil
Potato chips
Squeeze the potato to get the juice then steam it, place the mixture in the dehydrator, then bake it on the salamander.
Tartar sauce 
In a bowl place all ingredients together then Wisk it
Vegan mayo
Place all the ingredients except the avocado oil into a blender until smooth
Add the avocado oil and continue blend until the texture combine well
Beef tartar
Cut the beef sirloin for small diced
Chop the parsley, chive, and dice the shallots
In a mixing bowl place, the diced beef, chopped parsley, chives, diced shallots together with sauce, mix it gently.
Plating
On a pink salt stone place the baby purple Swiss chard leave, place the tartar mixture then on top of it place the vegan mayo dots, beluga caviar, potato chips and green apple.
Finish it with micro green eatable flower and Shimeji mushrooms.
Serve cold.
Allergens
NUTS AND EGG