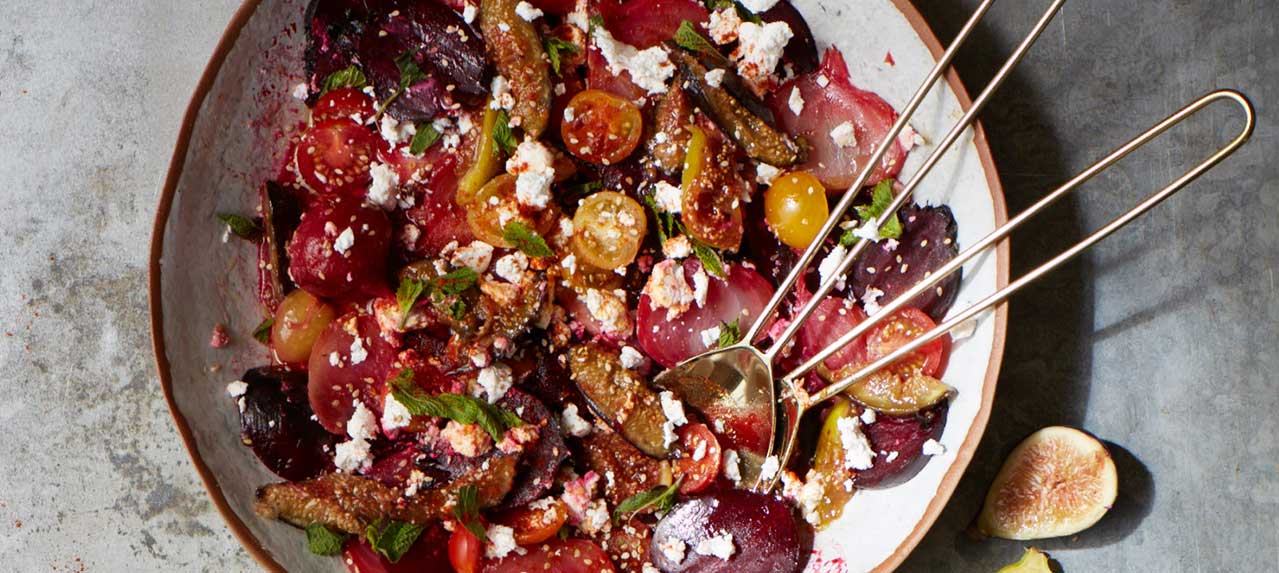 A generous knob of butter
1 tsp caster sugar
2 just-ripe figs
500g cooked beetroot
125g red and yellow cherry tomatoes
100g feta, crumbled
2 tbsp toasted sesame seeds 3 tbsp olive oil
2 tbsp cider vinegar
1 tsp honey
Paprika, to season
Small handful of small mint leaves, to garnish
1. Melt the butter in a frying pan and sprinkle over the sugar.
2. As soon as the butter has stopped foaming, carefully lay the wedges of figs in the butter and cook for 1-2 minutes each side until just golden.
3. Take each piece of beetroot and arrange it on a large platter, each slice slightly overlapping the other. I find it easier to start laying the slices on the outside and work in so that they're all lying on top of each other.
4. Place the cherry tomatoes all over the beetroot then scatter over the feta. You can do this bit with your hands or use a spoon if you prefer.
5. Sprinkle the sesame seeds over the top.
6. Whisk the olive oil, vinegar and honey together and spoon over the top then season with paprika. I like to sprinkle this right onto the feta so the white of the cheese is highlighted by the red spice.
7. Finally, arrange the mint leaves on top and serve.