10 OF THE BEST HEALTHY FOOD TRENDS THIS YEAR
What do oat milk, cauliflower pizza, and probiotic foods have in common? They were all major healthy food trends of 2019. It was also a big year for meat alternatives, low-carb eats, and more vegan-friendly products than ever before.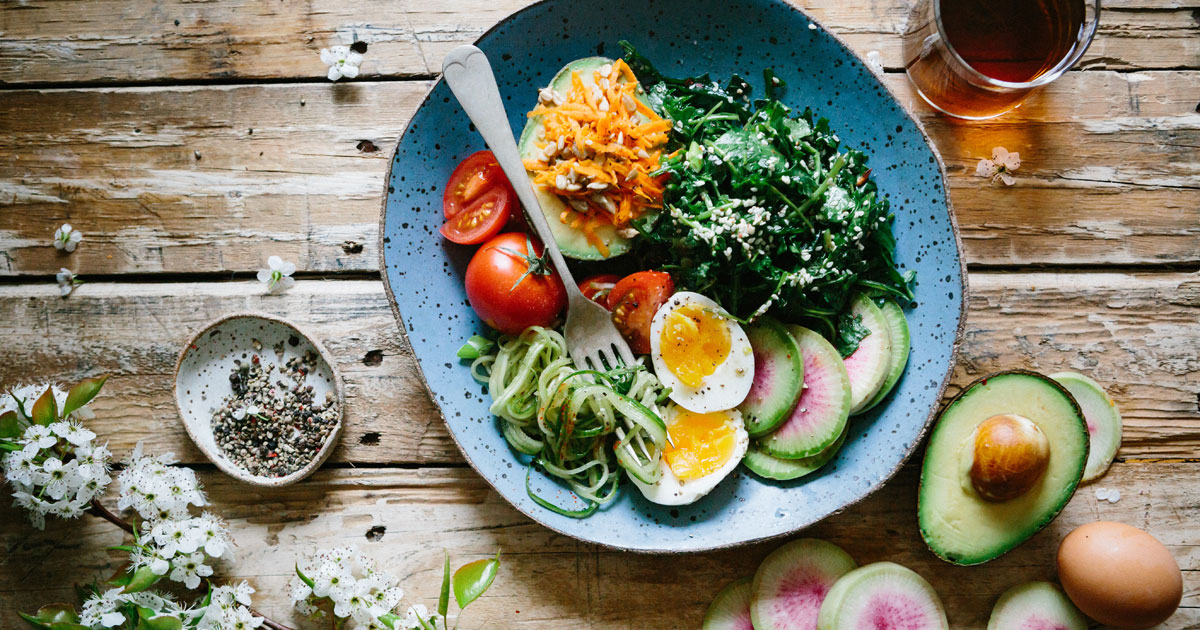 LESS ADDED SUGAR
As of January 2020, the FDA will require all large food manufacturers to identify just how much added sugar is in their food. While sugars naturally found in fruit, vegetables, and dairy are considered healthy, we get an excess of added sugars in food and drink that are added during processing. Total sugars have been included on the Nutrition Facts panel for several years, but until this forthcoming label change consumers haven't been able to determine how much of total sugar was natural versus added.
PLANT-BASED PRODUCTS GROW EVEN BIGGER
Plant-based foods were big in 2019, but 2020 is predicted to be even. It's a growing trend to eat less meat—for the environment, for your health, and even sometimes for affordability. It doesn't mean adopting a vegetarian or vegan lifestyle. Instead, this trend is about adjusting proportions of food (plant to animal) as people realize the environmental and health impacts that small changes can have.
BRAIN FOOD
We know that what we eat impacts our physical health, but the idea that food can affect mental health as well is relatively new (and still a little unbelievable to some). However, as research reveals more about gut health, it's clear that there is a definite connection between the gut and the brain, particularly when it comes to mood, memory, anxiety, depression, attention, and degenerative diseases like Alzheimer's. If you haven't heard about key nutrients that influence neurotransmitter production and utilization like omega-3 fatty acids and certain B vitamins, you will in 2020.
MORE NON-DAIRY MILK ALTERNATIVES
2019 was certainly the year of oat milk, and with so much of the population switching to a vegan or plant-based diet, the need for alternative milk won't slow any time soon. These dairy alternatives will extend to coffee creamers, and other places where dairy milk traditionally reigns supreme: yogurts, cheeses, and ice cream.
GOODBYE FLOUR, HELLO VEGGIES
In 2019, cauliflower pizza was the most ordered food of the year. The Whole Foods trend report also suspects there will be more packaged products going alt-flour as well: tigernut flour in chips and snack foods, and pastries made with seed flour blends.
CARBS ARE BACK…SORT OF
There's no denying 2019 has been very anti-carbs (keto diet), in 2020, keto will likely still linger, but people will be a bit more accepting of healthy carb choices. "Carbs aren't the enemy, they're just a little misunderstood, carbs from healthy whole grains, pulses, starchy vegetables and fruit are good.
NATURAL REMEDIES OVER PRESCRIPTION
Twenty years ago, we followed doctor's orders and took medication prescribed without question. What would raise eyebrows back then was if someone didn't take those medicines in favor of a supplement, probiotic, or other natural health solution. But that mindset is slowly changing as natural remedies like CBD and collagen are becoming preferred over trips to the pharmacy.
SLEEP AS A PRIORITY
Even though many of us are still struggling to figure out how to count more sheep each night, 2019 was the year public awareness around how vital sleep is to health seemed to peak. And we predict even more attention will be given to sleep as a health priority in 2020. Nap bars—places where professionals can escape to grab a quick power nap during the workday—are popping up worldwide.
A RETURN TO HOME COOKING
Cooking at home is a tangible way to find connection and meaning through the food that brings us joy and comfort. After all, for most of us, certain foods evoke fond memories and remind us of the love we feel for the people around us. Cooking is also a real, physical thing we can do—something that's not virtual or digital—for the ones we love most. A return to simple home cooking.
WELLNESS VACATIONS
Tired of your vacation leaving you feeling like you need a vacation? Typical vacation doesn't recharge or refresh. What's needed is a little vacation balance: still having fun and relaxing with a cocktail or two at night, but with a side of activity, healthy dining, and even a little meditation or yoga. You will watch them growing in popularity in 2020.