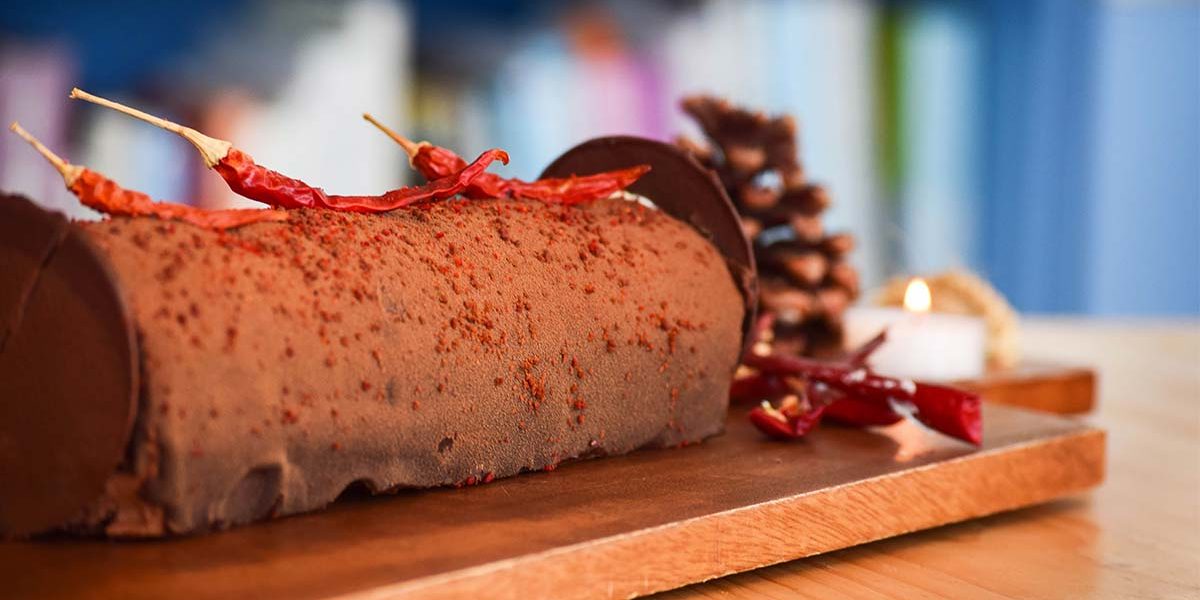 Sponge Cake
500 g eggs
300 g sugar
250 g wheat flour
50 g cocoa powder
Chocolate Filling
500 g fresh cream
300 g 70% dark chocolate
5 g hot pepper powder
Simple Syrup
Sponge Cake
Whisk 300 g of sugar with the eggs in the machine for 10 minutes until the volume is four times bigger.
Mix the flour and cocoa powder and sieve them bit by bit over the whisked mixture.
Preheat the oven at 180 °C.     
Cover a 40 x 60 cm tray with butter paper.
Pour the mixture and bake for 8 minutes.
Remove from the oven and let cool.
Chocolate Filling
Grate the dark chocolate.
Bring the cream to a boil or until it reaches 90-100 °C.
Stir in the grated chocolate and whisk well until combined.
Add in the pepper powder, let cool at room temperature then put in the fridge overnight.
Simple Syrup
In a medium saucepan combine sugar and water.
Bring to a boil, stirring until sugar has dissolved. Let cool at room temperature.
Yule Log
Place the sponge cake with the dry side on top, pour the simple syrup on it.
Spread the chocolate filling and roll the cake.
Put in the freezer for 2 hours.
Remove and cover with the remaining chocolate filling.
Decorate with whole peppers and serve.
Tip: Sprinkle with some freshly cut mint for more flavor.
OTHER RECIPES BY ALINE KAMAKIAN