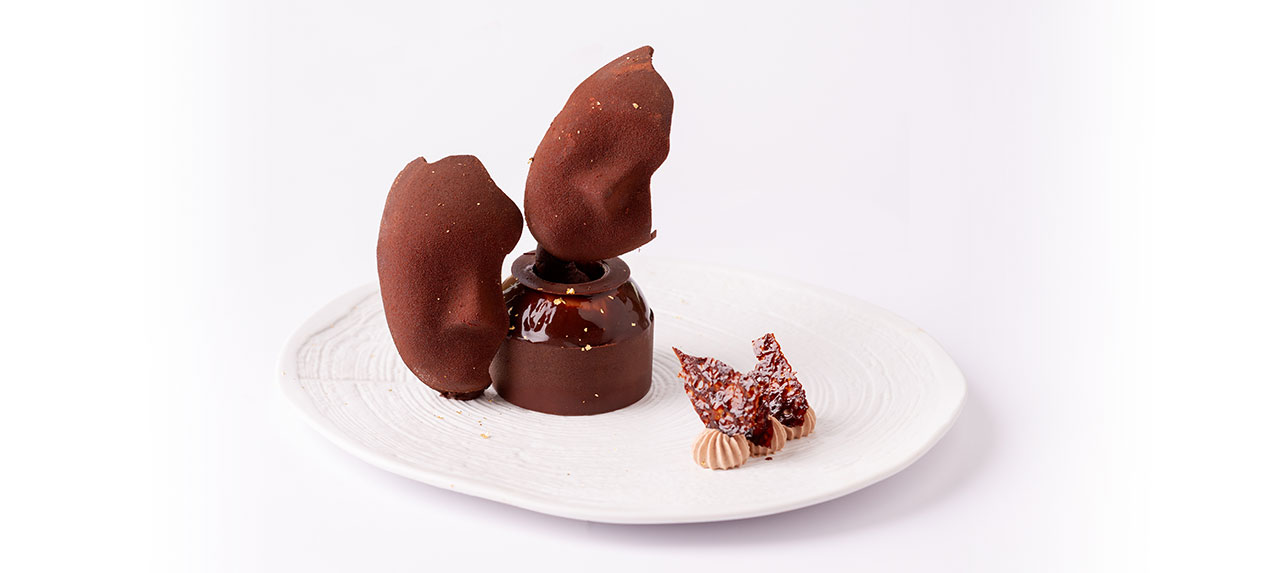 Light soft chocolate cake
165g yolks
90g brown sugar
240g egg whites
90g dark couverture chocolate 70%
25g cocoa paste
Light vanilla and kirsch mousse
110g milk
1 vanilla bean
25g yolks
20g sugar
14g gelatine mass
10g kirsh  'Fourgerolles'
110g whipped cream
Meringue base
70g egg whites
50g inverted sugar
50g glucose
Light chocolate mousse
135g milk
135g cream
135g yolks
275g dark couverture noire 70%
28g gelatine mass
160g meringue base
225g whipped cream
Chocolate mirror glaze
150g water
300g sugar
300g glucose
200g sweetened condensed milk
150g gelatine mass
250g dark couverture chocolate (64%)
1. Light soft chocolate cake. In a mixing bowl, with a whisk attachment, whisk together the egg yolks and brown sugar, then fold through the egg whites whisked with the sugar.
2. Finish the mixture with the dark couverture chocolate melted to 40°C with the cocoa paste.
3. Bake at 160°C for 12 to 15 minutes.
4. Light vanilla and kirsch mousse. In a saucepan, make a Crème Anglaise with the milk, cut and scraped vanilla bean, egg yolks and sugar.
5. Bring heat to 85°C then pour over the gelatine mass and mix well together.
6. Cool to 20°C then combine with the kirsch and whipped cream.
7. Pour 100g of the mousse into each of the moulds and sprinkle fresh raspberries onto each before placing in the freezer.
8. Meringue base. Combine together the egg whites with the inverted sugar and glucose then whisk together in a mixing bowl.
9. Light chocolate mousse. In a saucepan, make a Crème Anglaise with the milk, cream, and egg yolks cooked to 85°C.
10. Pour the cooked Crème Anglaise over the dark couverture chocolate and gelatine mass.
11. Mix and cool to 25°C before folding through the whipped cream. Use immediately.
12. Chocolate mirror glaze. In a saucepan, cook together the water, sugar and glucose to 103°C.
13. Pour over the condensed milk, gelatine and then the dark couverture chocolate.
14. Mix and store in the refrigerator overnight.