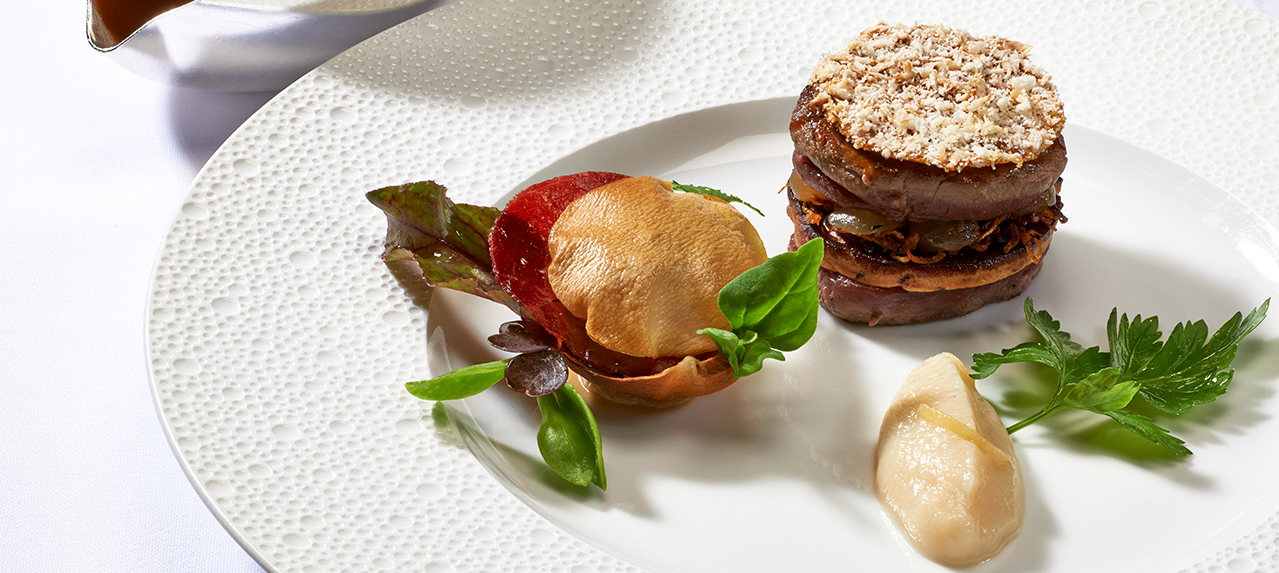 • Fillet of Aquitaine beef, prepare and portion 4 square blocks of 150g each (80mm)
• 4 slices of foie gras, 30g of the same diameter of squares
• 4 bresaola rounds of 60mm, browned and crispy
Crunchy fritters
• 125g flour
• 15ml olive oil
• 35ml water
• 10g egg white
• 2 tsp salt
Garnish
• 100g hulled and seedless grapes
• 100g thinly chopped shallots
• Olive oil and salt
Purée of artichocke
• 200g Jerusalem artichoke
• 80ml cream
• 150ml milk
• Salt to taste
• Lemon juice and zest to taste
Tonkatsu sauce
• 200ml veal stock
• 30g ketchup
• 5ml sesame oil
• 20ml soya
• 1ml Worcestershire sauce
• 5g Voatsiperifery pepper
• Foie gras for thickening
1. Open the marked fillets in half. Place the slice of foie gras inside. Garnish with crispy shallots and raisins and close with the other half of the fillet and then place in the oven. to make crispy shallots, brown the shallots and when they are colored, reserve on a paper towel.
2. For the crunchy fritters, add all liquids to the flour, then salt and set aside for 24 hours. Roll out very thin, brush well, fold, roll again very thin and cut to a diameter 60mm and cook on very hot plate, 300°C and reserve.
3. When ready to serve, open the fritters in two. Arrange four shoots of different salads with olive oil. Then add a slice of bresaola and close with the fritter lid.
4. For artichoke puree, cook slowly by skimming, mix and reserve.
5. For the sauce, xix all the ingredients and cook slowly. Add the sauce and finish the thickening. Season and reserve.
6. Finish, with four lemon zest preserved, four sprigs of parsley, four spring-roll rounds of panko crips (make rounds of tonkatsu sauce, breaded to the panko and then brown in the oven).