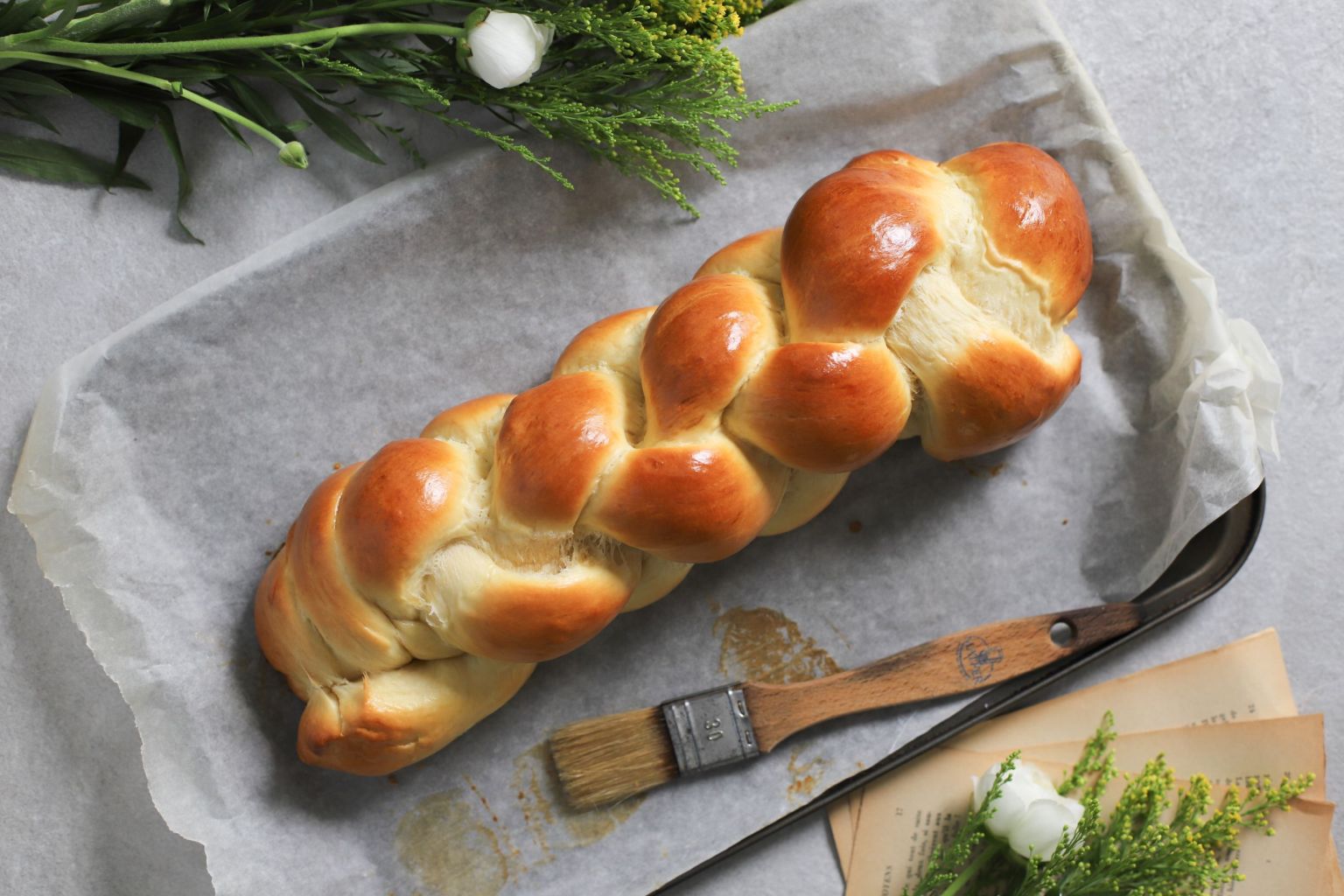 3/4 cup warm milk
1 tbsp. instant yeast
3 large eggs room temperature
1/2 cup sugar + 1 tbsp.
5 tbsp. melted and cooled butter (around 70 gr)
1 tsp salt
4 1/2 cups bread flour or all-purpose flour
Poppy seeds, optional
For the egg wash
Place the warm milk in a medium sized bowl and add 1 tbsp. sugar. Mix to dissolve. Add the yeast, mix gently and set aside.
In the bowl of your stand mixer add the eggs, sugar, salt and the butter. Whisk till just combined.
Add the milk and yeast mixture and whisk till just combined.
Using the dough hook start adding the flour one cup at a time making sure that flour gets well incorporated after each addition. When you reach the last 1/2 cup start adding the flour a tbsp. at a time till you have a dough that is very soft but not sticky (dough should not stick to your fingers).
Knead the dough till smooth and elastic, around 8-10 minutes.
Place the dough in a lightly oiled bowl, cover it with cling film and a kitchen towel and place in a dark, warm place till doubled in size – if weather is warm this should take around 2 hours (winter time, you can turn on your oven on the lowest setting for around 10 minutes, then turn it off and place the bowl in the oven, it should be just warm).
After two hours shape the brioche to your preference. Place the shaped brioche on a baking tray lined with parchment paper, cover loosely and let the dough rest for 30 minutes or until its visibly puffed.
Prepare the egg wash by simply mixing together the egg and water. Using a brush generously spread the egg wash all over your brioche. Sprinkle the poppy seeds if using.
Bake in a preheated oven on 190 °C for 25-30 minutes or until golden brown.
TIP
It's perfect to eat as is, lightly toasted with butter and jam or used for French toast. It keeps for 6 days in an airtight container. You can definitely make it by hand without a stand mixer.