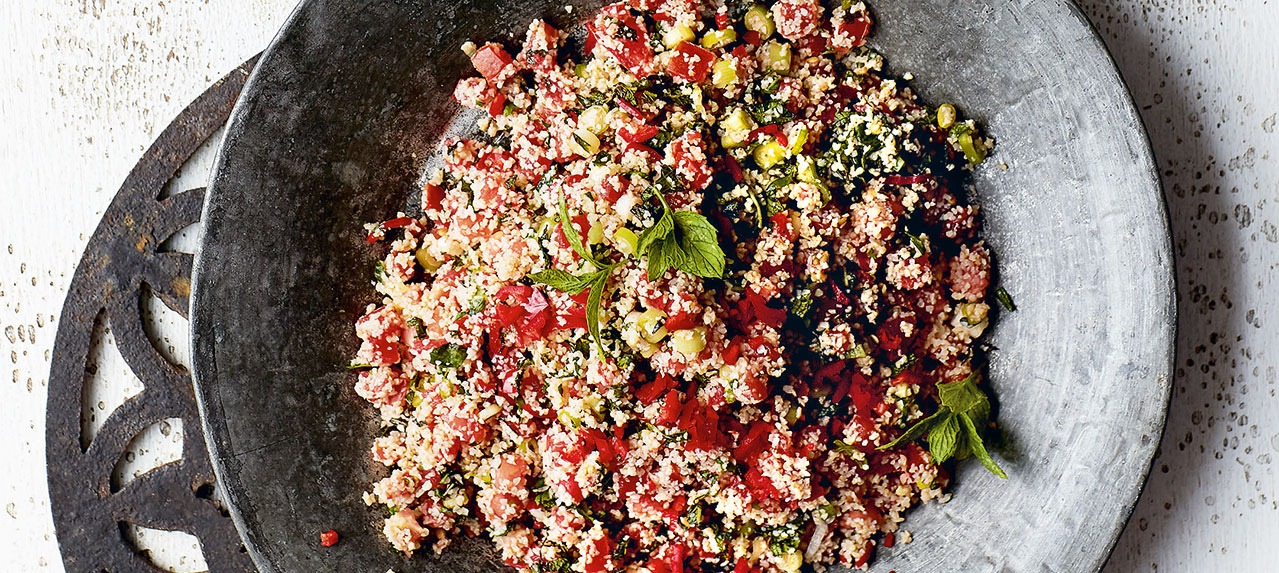 Sunflower oil, for frying
2 aubergines, chopped into cubes
500g coarse brown bulgar wheat
500ml cold water
1 small onion, chopped
1 garlic clove, crushed
2 tbsp cinnamon
1 tbsp Lebanese seven-spice mix
1 tsp salt
½ tbsp black pepper
5 tomatoes, chopped
2 tbsp tomato purée
500ml tomato juice
500ml chicken stock
150g tinned, drained chickpeas
6 skinless chicken thighs, bone in
3 tbsp olive or vegetable oil
150ml hot water
1. Start by frying the aubergine until golden. Heat about 2cm oil in a medium sauté pan for a couple of minutes. To check it's hot enough, add a cube of aubergine; if it sizzles, it's ready. Depending on how big your pan is, put a quarter or half of the chopped aubergine into the pan and fry until golden. Drain on kitchen paper. Continue until all the aubergine is cooked. Set aside.
2. Put the bulgar wheat into a bowl and cover with the cold water. Leave to soak.
3. Preheat the oven to 190°C/170°C fan/gas mark 5.
4. Heat 2 tablespoons of oil in the pan and sauté the onion and garlic over a low heat for 10 minutes. Stir in three quarters of the spices and half the salt and pepper, and cook for 1–2 minutes.
5. Stir in the chopped tomato and cook for a further 5 minutes until it has cooked down and softened, and the mixture looks like a sauce. Add the tomato purée and pour in the tomato juice and stock. Season, add the bulgar wheat and mix everything together, then add the chickpeas. Cover the pan with a lid and cook for 20–25 minutes over a very low heat.
6. Put the chicken into a roasting tin and season with the remaining spices, salt and pepper.
7. Add 1 tablespoon of oil and toss to coat the thighs in the seasonings. Roast in the oven for about 10 minutes, until they're starting to turn golden, then reduce the heat to 170°C/150°C fan/gas mark 3.
8. Pour the hot water into the tin, cover the whole thing with foil and continue to roast for 15–20 minutes, until tender. Check the bulgar wheat is cooked, then fold in the chopped aubergine and serve with the chicken.