Serves 4 | Prep/cooking 40 mins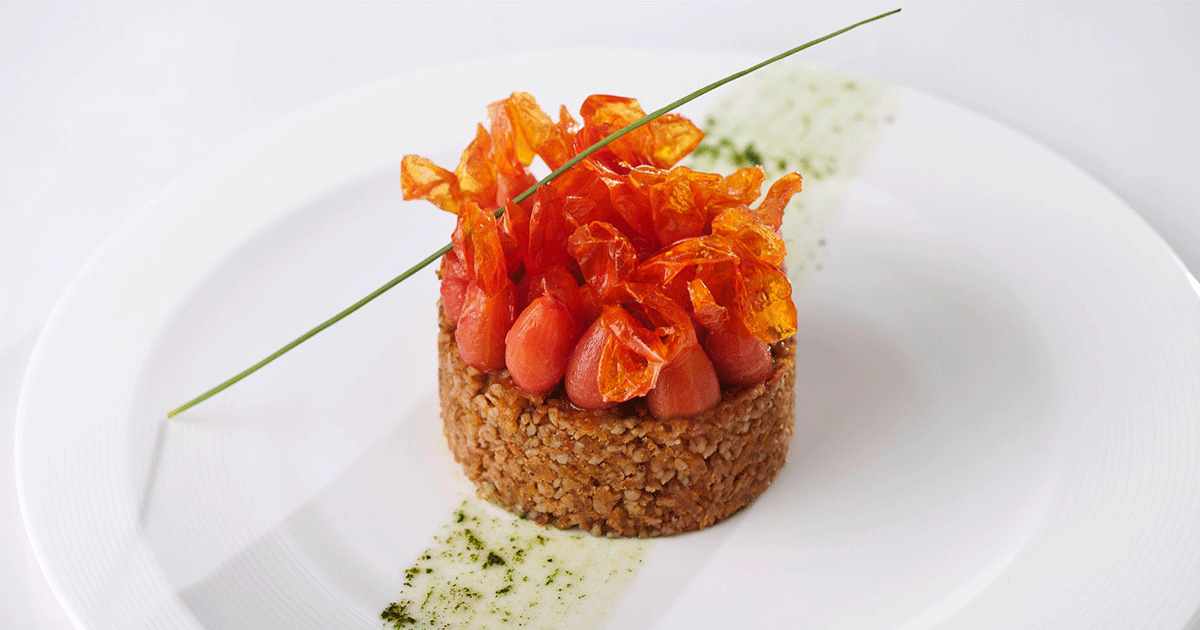 500 g white coarse burghul
70 g olive oil
70 g white onions, chopped
1 garlic clove, finely chopped
1.5 L peeled tomato, chopped
50 g tomato paste
12 g salt
 5 g allspice powder
150 g water
Garnish
200 g cherry tomatoes
Fresh chives
Wash the burghul and drain very well. Keep aside.
In a pot, heat the olive oil on high heat. Add the onions and sauté until translucent.
Add the garlic and stir for 1 minute.
Add the burghul and stir for 3 minutes.
Add in the peeled tomatoes and the tomato paste.
Season with salt and pepper.
Add the water and lower the heat.
Let it simmer for 20 min over low heat with the lid on until the bulgur is well cooked.
Cherry tomato
With the edge of a sharp knife slice a shallow X into the bottom of the tomato.
Bring a pot of water to boil and place the tomatoes into the water.
Blanch the tomatoes for 5 seconds. You should be able to pop them out of their skins by giving them a twist and squeeze.
Plate dressing
In a plate fill in the burghul preparation in a circle mold.
Garnish with the cherry tomatoes and the chives.
Serve and enjoy.