CABBAGE DOLMA WITH ZAATAR AND TRUFFLE BUTTER
BY CHEF MOHANAD ALSHAMALI
Serves 10 | Prep/cooking 45 mins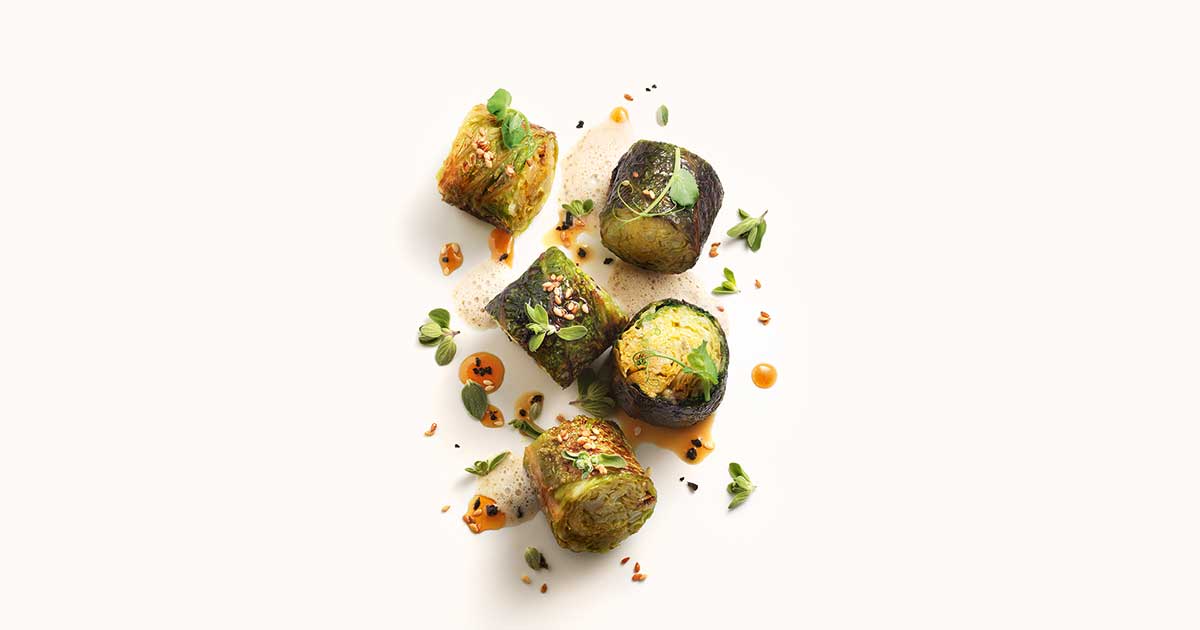 3 pieces Savoy cabbage
1L Vegetable stock
200g Brown sugar
250g Unsalted butter
5 kg Unsalted butter
2 kg Truffle paste
240 g Fresh zaatar
60 g Dried zaatar
80 g Maldon salt
10 pieces Lemon zest
600 g White onion (blitzed in thermo, water squeezed out)
20 liters Water
20 pieces Carrots
10 pieces White onions
5 pieces Leeks (white only)
1 head Celery sticks
1 piece Garlic head (halved)
1 piece Lemon (halved)
15 g Coriander seeds
15 g White peppercorns
1 bunch Parsley stalks
2 pieces Bay leaves
Fresh zaatar
Pea shoots
Toasted sesame seeds
1. Blanch outer, larger leaves in salted water (40g salt per liter) until al dente, then refresh in iced water. Once cold trim the stems to make leaves flat. Cut the remaining head into quarters.
2. Heat a large roasting tray with olive oil. Start coloring the cabbage on cut surfaces.
3. Once golden brown color is reached, add butter and brown sugar and caramelize cabbage till fully colored. Centre of cabbage should still be raw.
4. Add vegetable stock and cover with tinfoil.
5. Gently cook till tender.
6. Remove cabbage and reduce stock.
7. Place blanched cabbage leaves on tinfoil.
8. Place 2 pieces of fully cooked cabbage inverted on the leaves (stems removed and squeezed, lightly seasoned with Maldon salt).
9. Roll tightly. Refrigerate.
10. Allow butter to soften.
11. Combine all ingredients.
12. Refrigerate.
13. On order make the sauce by mixing zaatar and truffle butter with cabbage cooking liquid.
14. Roughly chop all the vegetables and place in large stockpot.
15. Cover with 20 liters of cold water.
16. Bring to boil for 10 minutes.
17. Add remaining ingredients and simmer for another 10 minutes.
18. Remove from heat and cover.
19. Once cold strain through chinois.
20. Refrigerate.
21. Fried for the cabbage dolma, we put the rolled dolma in the grill, along with the aluminum foil, and keep it there until it gets a chargrilled flavor as well as a grilled color.
22. Once the desired color is attained, we remove the aluminum foil, and then cut it into 4 equal roundels. We then top it with toasted sesame seeds and with the zaatar truffle butter on the side serve it.