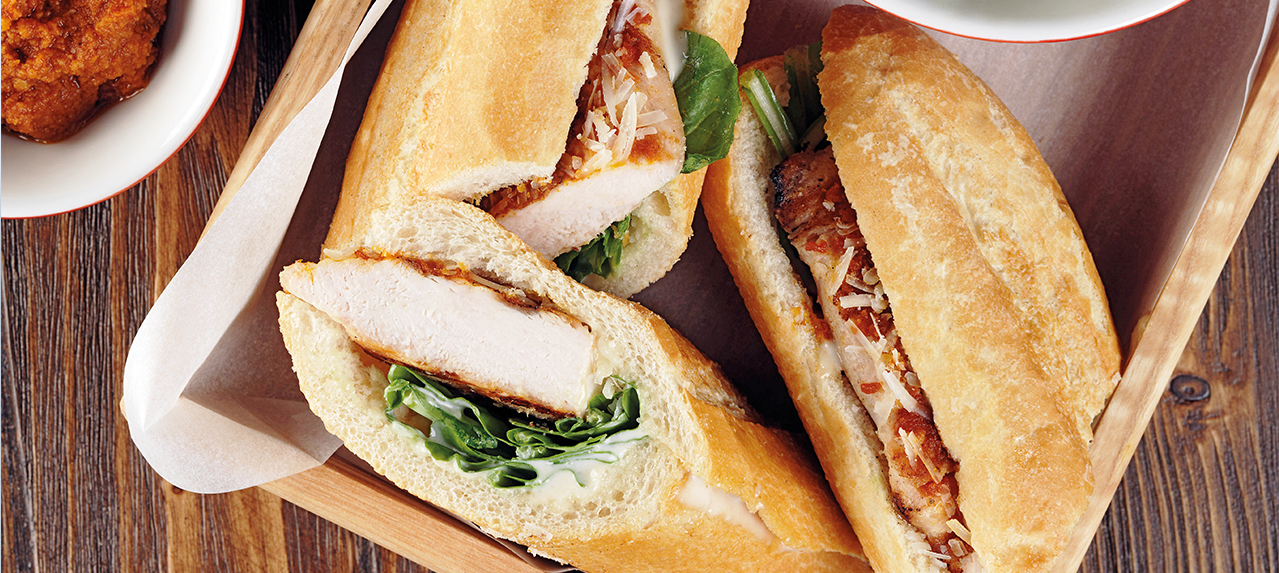 Sundried tomato pesto
• ¾ cup sundried tomatoes
• 1/3 cup pine nuts
• 2 peeled garlic cloves
• ½ cup olive oil
• 30g grated Parmesan
• Salt to taste
• Pepper to taste
Caesar sauce
• 2 peeled garlic cloves
• 4 anchovy fillets drained from olive oil
• 80g grated Parmesan
• 1 tbsp fresh cream
• 1 lemon, juiced
• Extra Virgin olive oil
• Salt to taste
• Pepper to taste
Sandwich
• 1 white baguette
• 2 chicken breasts, 140g each
• 40g Caesar dressing
• 15g sundried tomato pesto
• 12g rocket leaves
• 10g grated Parmesan
• Salt to taste
• Pepper to taste
1. Process tomato, pine nuts and garlic, scraping down sides occasionally, until almost smooth. With motor running, add oil in a slow, steady stream. Process to combine. Transfer to a bowl. Add Parmesan. Season with salt and pepper. Stir to combine.
2. For the Caesar sauce, pound the garlic and anchovy fillets in a pestle and mortar or a flavor shaker until
you have a pulp.
3. Scrape down and whisk in the Parmesan, fresh cream, lemon juice and three times as much Extra Virgin olive oil and lemon juice. Season dressing to taste with salt and pepper.
4. Grill chicken breasts and add salt and pepper to taste.
5. Cut baguette sideways and spread sundried tomato pesto. Slice grilled chicken breasts and place in. Top with rocket leaves and drizzle with Caesar dressing and Parmesan.