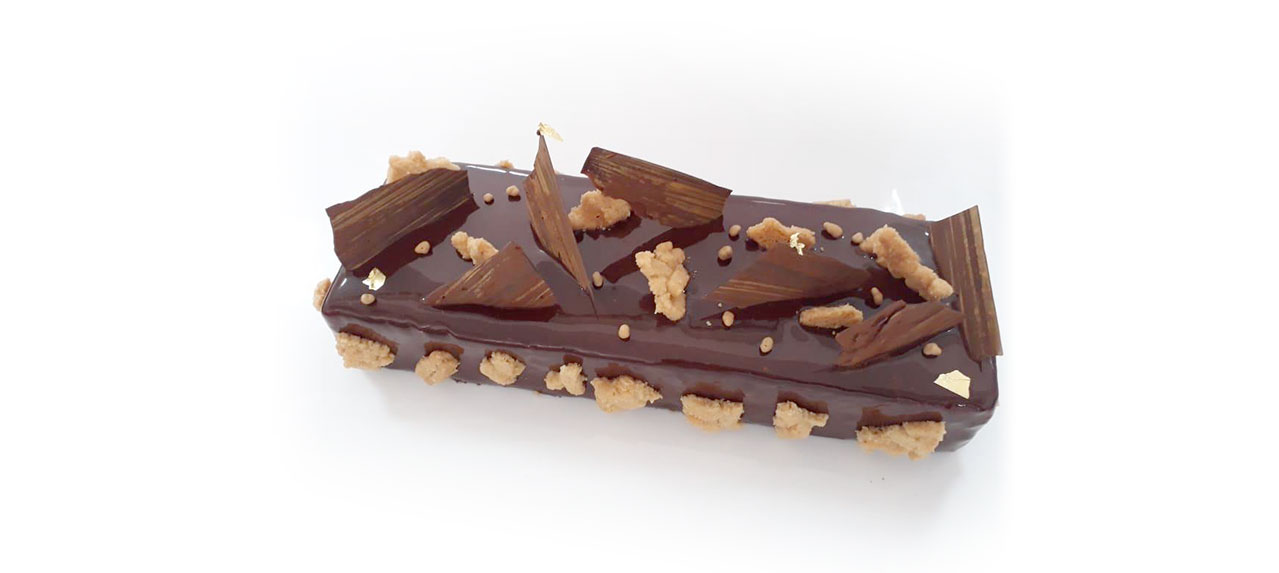 Sponge Chocolate Cake
105g Eggs
30g Laped Invert Sugar
52g Sugar
30g Almond powder
50g Flour
10g Cocoa powder Cacao Barry Extra Brute 22/24%
3g Baking powder
50ml Dairy cream 35.2% Even
38g Butter
30g Dark Chocolate 70% Callebaut (70-30-38)
380g sponge by tray 40×30
1. Mix eggs with invert sugar, sugar, and almond powder.
2. Add sieved flour, baking powder, and cocoa powder to the egg mixture, and then add liquid cream, melted butter with dark chocolate at 45°C add to the egg mixture .
3. Scale 760 gr on a silpat 40 sponge by tray 40×60.
4. Bake at 180ºC during 5 minutes in the fan oven.
Milk Chocolate Hazelnut Crunchy
30g Milk Chocolate Callebaut 841
50g Cacao Barry Hazelnut Paste Pnp
50g Cacao Barry Pailleté Feuilletine
1. In a microwave melt the milk chocolate.
2. Add PNP & pailleté feuilletine to it.
Chocolate Cream
100g Milk
20g Sugar
320g Egg yolk
2 Gelatin pieces 200 bloom
30 g Cacao Mass Callebaut
200g Even Dairy Whipped Cream
1. Bloom the gelatine in cold water.
2. In a pan boil milk.
3. In a plastic bowl mix sugar and egg yolks.
4. Pour half of the warm milk in egg and sugar mixture.
5. Transfer the mixture into another pan.
6. Prepare a vanilla sauce, cook at 83°C. Add the bloomed gelatine and cacao mass.
7. Cover it with cling film and leave it outside.
8. Whip the cream in a mixing bowl (KitchenAid).
Italian meringue for chocolate mousse
200g Egg Whites
96g Sugar
66g Water
1. In a pan, boil water and sugar till it reached 121°C.
2. Whip egg whites in a mixing bowl (kitchen aid).
3. Once the egg whites are fluffy, pour the sugar syrup at 121°C.
4. Whip it until the meringue is shiny and cools down.
Chocolate mousse preparation
Chocolate Cream (full recipe mentioned above)
180 gr Italian meringue
When the chocolate cream reaches a temperature of 45°C add the whipped cream in 2 times, the first part mix with a whisk, the second part mix with a rubber spatula and add the Italian meringue.
Light mandarin mousse
45g Cap'fruit Mandarines Puree
20g Cap'fruit Lemon Puree
5g fresh Orange zest
50g Eggs
12g Egg yolk
72g Sugar
3g Cornflour
40g Butter
2g Gelatin
250g Even Dairy whipped cream
1. In a pan warm mandarin and lemon puree with orange zest.
2. In a plastic bowl mix sugar and egg yolks and eggs.
3. Add the corn flour.
4. Pour half of the warm purée in the egg & sugar mixture, and transfer all the mixture in a pan.
5. Boil mixture its look like a pastry cream & add gelatin.
6. Transfer in one container.
7. Add the butter at 40°C & blend it.
8. Meanwhile whipped the cream.
Mandarin Tutta frutta
100g Mandarin Tutta frutta
When the light mandarin mousse is frozen spread the Tutta frutta mandarin on the top.
Milk chocolate glaze
150g Water
300g Sugar
300g Laped Glucose
200g Condensed Milk
27g gelatin sheet 200 bloom
300g Milk chocolate 823 Callebaut
1. Put the gelatine leaves in the cold water. (160 gr)
2. In a pan cook water, sugar and glucose till it reaches 103°C.
3. Add condensed milk.
4. Add the milk chocolate and blend it without creating any bubbles. Use at 33°C.
Steuzel
90 g butter
90 g light brown sugar
90g flour
90g almond powder
1. Dice the cold butter. Sift the dry ingredients together.
2. Add the butter, and mix using the paddle attachment. The mixture first becomes crumbly, then forms a roughly homogeneous paste. Stop mixing and put the "paste" into a refrigerator for at least 30 minutes.
3. Push the cold paste through a 4mm wire grid or candy sieve to obtain regular grains.
4. Sprinkle on a sheet and bake at 150/160°C damper open.
5. It should be a warm golden color. Allow cooling.
Chocolate garnish wood effect
Dark chocolate 70-30
Guitar transparent paper
Gold dust
1. Mix a bit of gold dust cacao butter. Temper at 30°C.
2. Brush the gold preparation on the top of one side guitar transparent paper. Let set.
3. Temper the dark chocolate and spread on the gold transfer paper.
4. Put the second transfer paper on the top of the chocolate.
5. Before is crystalizes totally remove the first transparent paper.
6. Let crystallize and brush with cacao powder to get the wood effect.