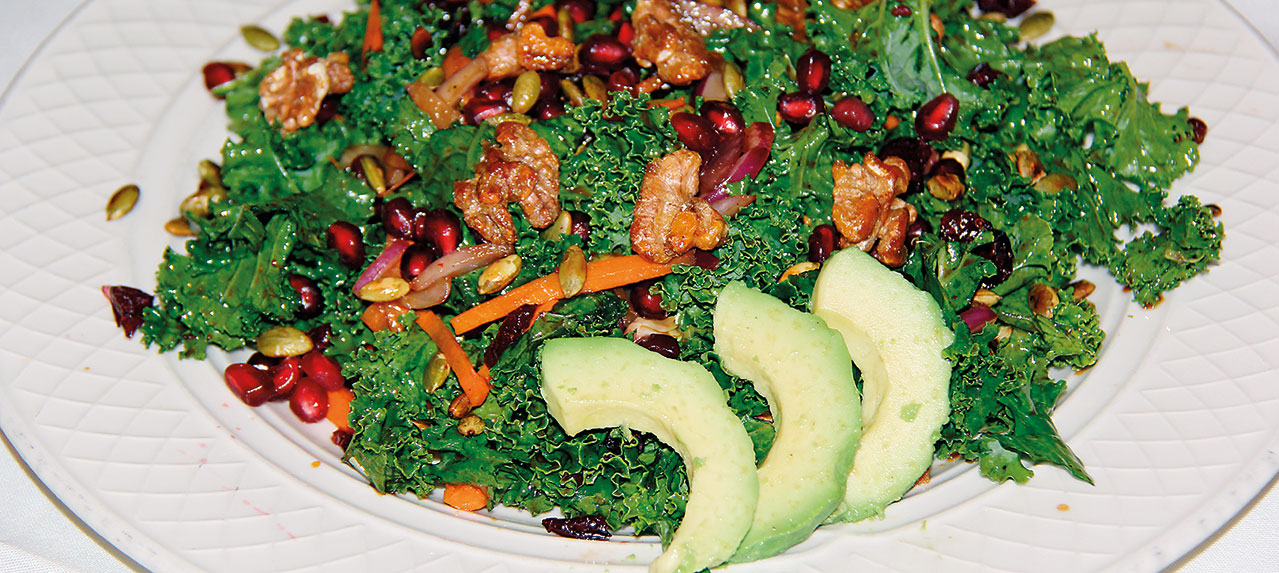 300g kale (called Tuscan or Dinosaur)
1/3 cup red onions
¼ cup carrots
1/3 cup toasted pumpkin seeds, 2 tbsp for garnish
½ cup dried cranberries, 2 tbsp for garnish
2 avocados (1 diced, 1 sliced for garnish)
½ cup pomegranate seeds, 2 tbsp for garnish
Candied walnuts
1 cup walnuts
1 tbsp sugar
2 tbsp light corn syrup
Vinaigrette
2 tbsp pomegranate molasses
3 tbsp red wine vinegar
2 tbsp freshly squeezed lemon juice
1 tbsp Agave syrup (or honey)
1½ tsp salt
¼ tsp black pepper
1 tsp sumac
1. In a mixing bowl, toss the walnuts with sugar, then drizzle the corn syrup and mix.
2. Spread the walnuts on a greased baking tray with nonstick cooking spray. Bake for 20-25 mins on 325°F, or until the walnuts are a deep golden color and the sugar mixture is bubbling, stirring occasionally to break up the lumps. Cool completely on the baking sheet.
3. For the vinaigrette combine molasses, vinegar, lemon juice, corn syrup, salt and pepper, then whisk in the olive oil until well incorporated and set aside.
4. Prepare the salad, wash the kale leaves and pat dry. Cut the thick ribbons in the center of each leaf, then cut the kale into bite size pieces. Place the kale and vinaigrette in a large bowl, and mix. Then add onions, carrots, pumpkin seeds, cranberries, pomegranate seeds and diced avocados. Transfer to a serving bowl or divide into individual plates. Top with pomegranate seeds, cranberries, pumpkin seeds, avocado slices and candied walnuts to serve.
5. For a more traditional dish, substitute the pumpkin seeds for roasted pine nuts. The combination of candied walnuts and roasted pine nuts serves as a sweet background to the tanginess of the kale and dressing. You can substitute the dried cranberries for dried cherries or dried apricots.