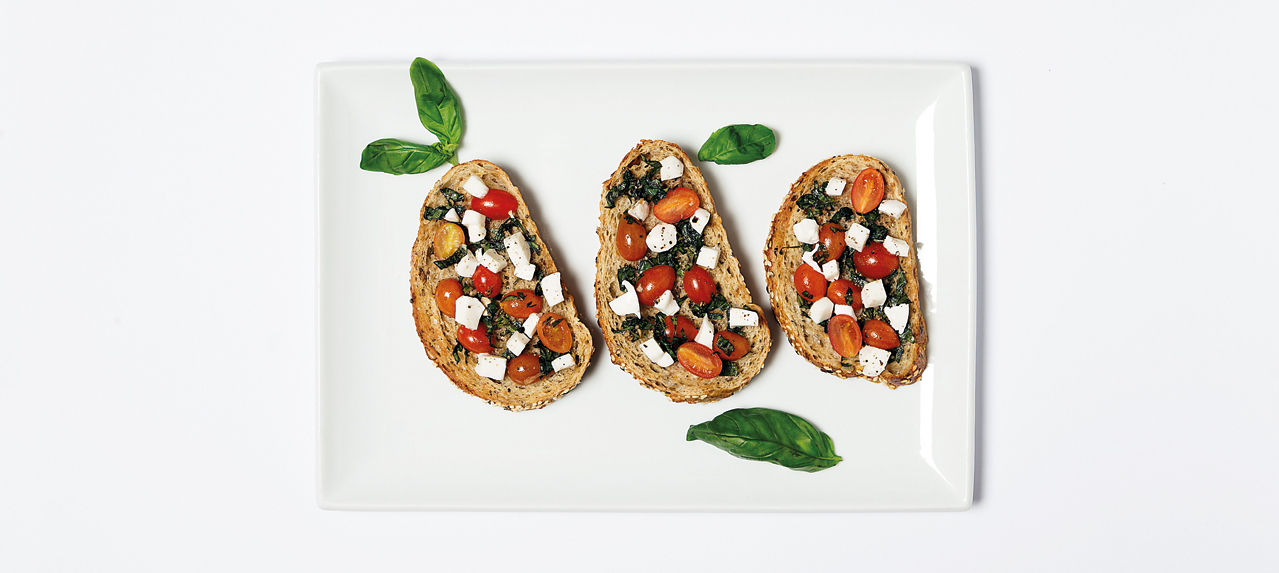 • 20g each or 4 slices of whole wheat baguette
• 60g or a handful of grape tomatoes, diced
• 20g fresh mozzarella cheese, diced
• 2 tbsp fresh basil, chopped
• 1 clove garlic
• A pinch of coarsely ground sea salt and freshly cracked black pepper
• 1½ tsp white balsamic vinegar
• 1 tsp olive oil
1. Slice the French baguette into 2 cm thick slices and arrange on a baking pan. Preheat the oven to 350 degrees.
2. Place sliced baguette in a pan in the oven and cook for 5 minutes or until crisp and warm. Set aside to cool slightly.
3. Cut the cherry tomatoes in halves or thirds, and the fresh mozzarella into small pieces.
4. Place the diced tomatoes, chopped basil and diced mozzarella together in a bowl; add the minced garlic,sea salt and freshly cracked pepper, to taste, white balsamic vinegar, and olive oil. Mix until evenly combined.
6. Place a spoonful of the Caprese salad on each slice of baguette. Serve immediately.