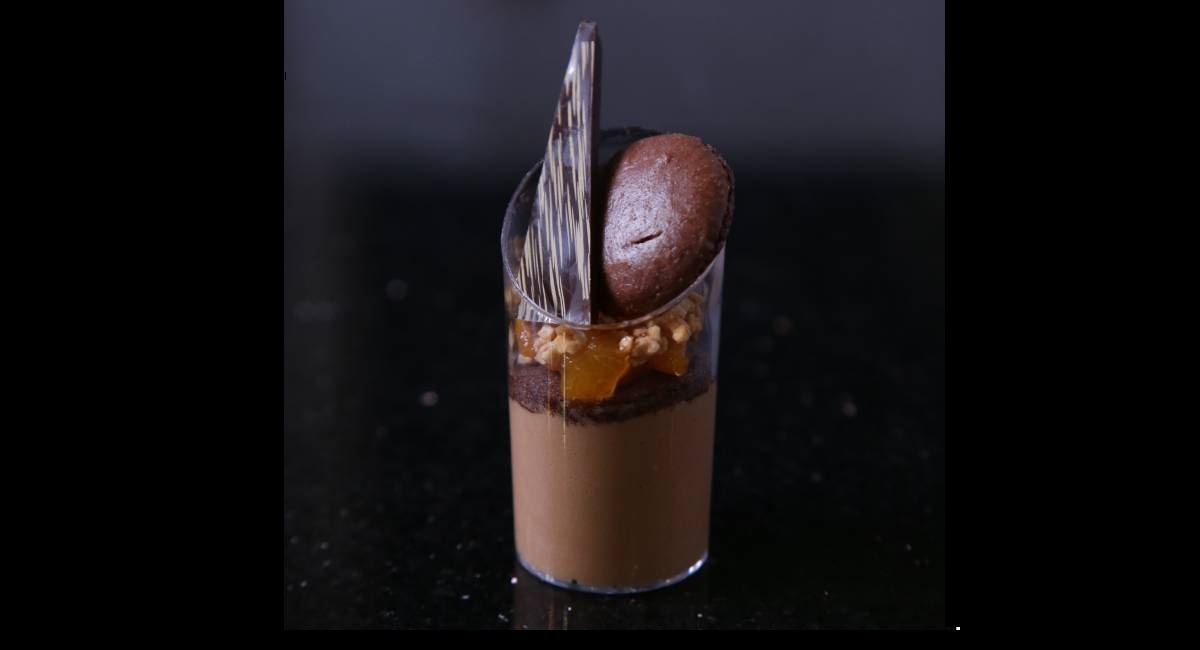 Caramel Milk Chocolate Mousse
380ml whole milk
50g caster sugar
100g of egg yolks
30g cream powder
350ml milk caramel 34%
420g whipped cream
Chocolate Macaroon
300g almond powder
264g icing sugar
36g cocoa powder
96g egg white
187g caster sugar
72ml water
96g egg white
Caramel Abricots
50g glucose
150ml caster sugar
175g water
400g apricots
200g apricot pulp
Syrup
500g caster sugar
250ml water
75g sugar
Caramel Milk Chocolate Mousse
Pour the boiling milk over the egg yolk, caster sugar and cream powder mixture.
Add the caramel milk and let cool.
Slowly add the whipped cream
Chocolate Macaroon
Mix the almond powder, icing sugar, cocoa. and the first part of the egg whites to make the almond paste.
Make an Italian meringue with the caster sugar and boiled water (at 118⁰) and pour over the second part of the egg whites.
Leave it a few minutes, and pour a small quantity of warm water over the almond paste.
Mix it all and shape the macaroons.
Cook the macaroons at 160⁰ for about 10-12 mins.
Caramel Apricots
In a copper pan, melt the glucose, gradually add the caster sugar and cook with light caramel.
Add boiling water and hot apricot pulp.
Add the diced apricots and boil the broth for a while.
Reserve for garnish
Syrup
Boil together the sugar, water and inverted sugar.
Remove the necessary quantity of syrup.
Mix the chopped almonds and bake in the oven at 160⁰.
500g chopped almonds, 150g syrup.