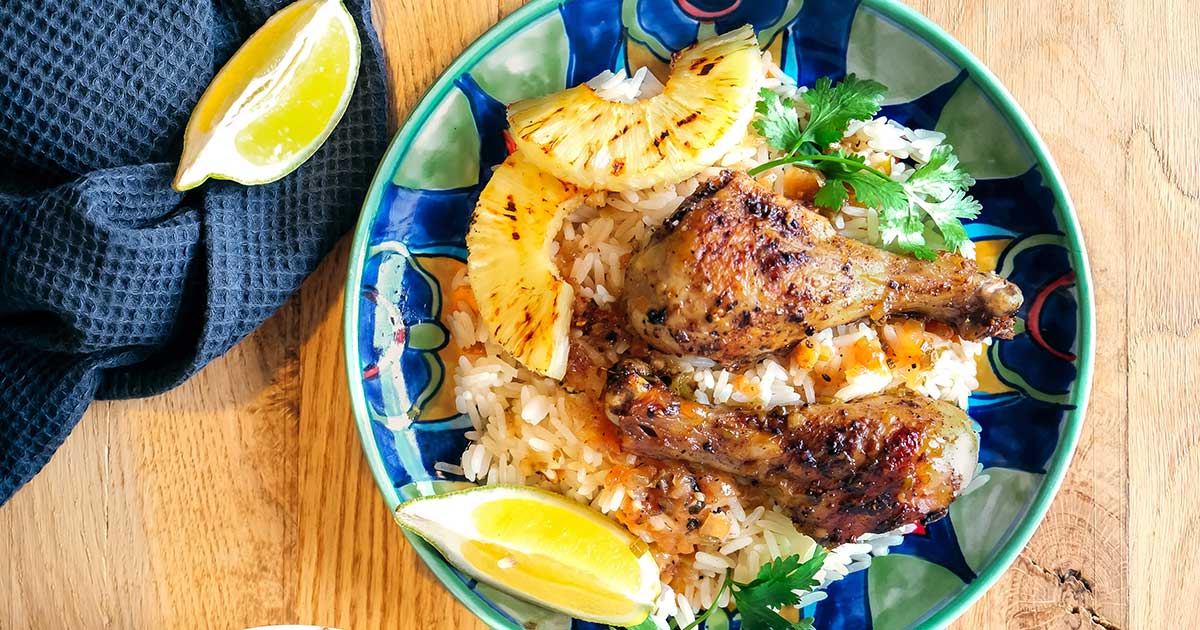 6 chicken drumsticks
Salt to taste
1 ½ tbsp ground 5 Baies or 5 pepper berries spice blend
3 tbsp olive oil
1 purple onion, finely chopped
3 grated garlic cloves
1 tbsp grated ginger
1 tbsp finely chopped coriander stalks, plus coriander leaves for garnish
1 medium chili pod, finely chopped
1 cinnamon stick
1 bay leaf
1 tbsp honey
2 tbsp spiced rum
1 cup lemon juice
1 cup water
3 thick pineapple slices
1 cup basmati rice, washed until water is clear then drained
½ tbsp butter
Salt to taste
1 ½ cup water
1. Place chicken drumsticks on a large plate. Season both their sides with salt and 5 Baies spice blend.
2. In a large pan heat 2 tbsp olive oil. Sear drumsticks on medium high heat. Every side should take about 5 minutes. When they get a nice golden color on both sides, remove them from heat and set aside.
3. In the same pan, add 1 tbsp olive oil. Sautee chopped onion, garlic, ginger, coriander stalks, chili, cinnamon stick, and bay leaf on medium heat. Cook them for 3 minutes until fragrant.
4. Add rum, honey and cook for 2 minutes. Add lemon juice and water, then return chicken to the pan.
5. Cover the pan and transfer it to a preheated 205°C oven. Cook covered for 30 minutes, then uncover pan, turn top flame on and continue cooking for 5 minutes to crisp the drumsticks up. Let the chicken rest for 5 minutes before serving.
6. For the rice, melt butter in a pan. Add rice and cook on medium heat for 3 minutes, while continuously stirring to coat every grain with the butter. Season with salt, add water and bring it to a boil then cover the pan and cook on low heat until the rice soaks all the water. It should take 15 to 20 minutes.
7. Heat a griddle pan well and grill the pineapple slices until grill marks form on both sides.
8. Spoon a generous amount of rice into your plate, top with 2 drumsticks, add a grilled pineapple slice, garnish with coriander leaves and drizzle chicken and rice with the delicious thick sauce.