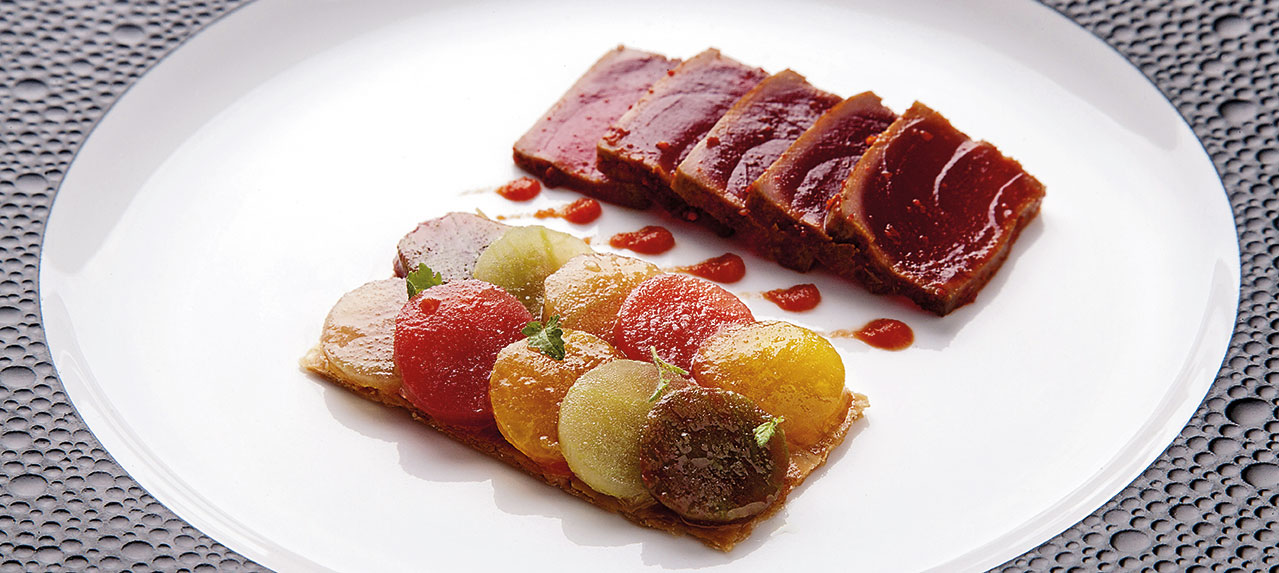 400g tuna slab
1 kg of tomatoes
175 ml of olive oil
50 ml of lemon juice
1 shallot
1 clove garlic
1 bunch of basil
4 slices of pain de campagne
Salt and pepper
1. Grill the tuna slab on the preheated plancha for a minute, keep the interior raw. Then place into a marinade mixture of 50 ml of olive oil, 50 ml of lemon juice, salt and pepper and put aside in the refrigerator.
2. For the tomato-basil, peel the skin of the tomatoes, slice them into wedges and remove the seeds so as to keep only the flesh.
3. Sprinkle the sliced tomatoes with salt and pepper and cook in the oven at 100°C for 20 minutes. Then remove from the oven and shape tomatoes using your preferred mold.
4. Finely mince the shallot, garlic and basil. In a saucepan, sauté them in 50ml of olive oil. Add the tomato flesh to the mix to make a sauce.
5. Coat the slices of pain de campagne that have been previously browned in 50 ml of olive oil with the tomato sauce. Then garnish with the round slices of tomato. Sprinkle with a little bit of salt, pepper and olive oil and heat in the oven at 160°C for 1 minute.
6. Remove the tuna slab from the refrigerator and cut into thin slices. Place the tuna and pain de campagne slices onto 4 plates and serve.