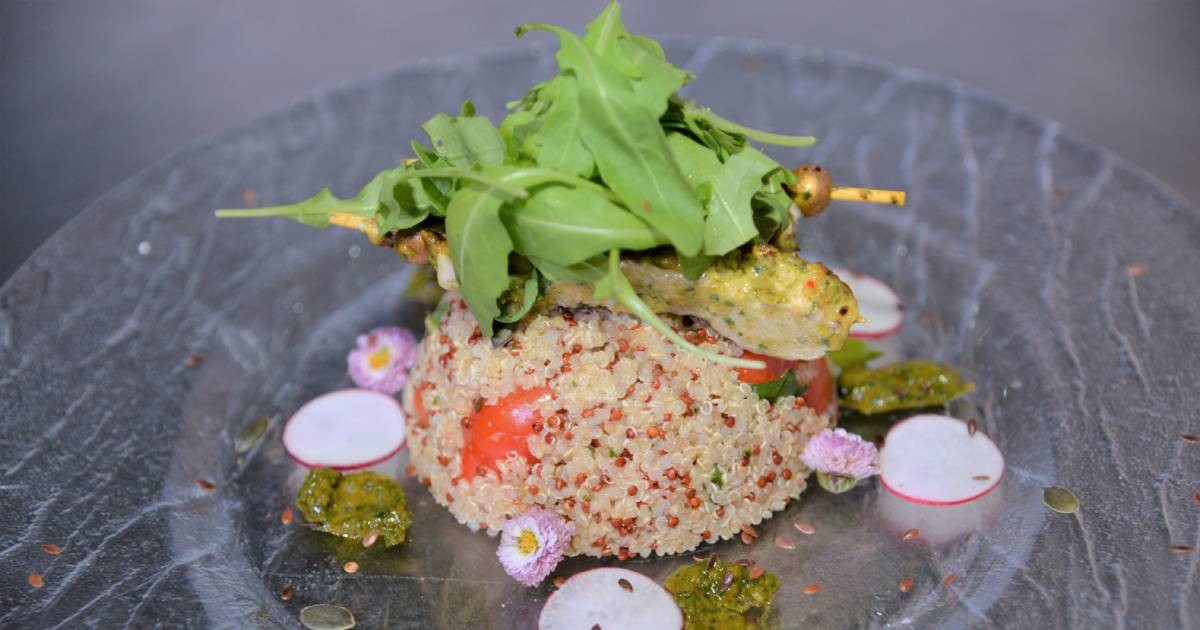 4 x lean chicken breasts, skin off, cut into strip
200g white quinoa
200g red quinoa
2 cup cherry tomatoes
1 cup radish
1 cup mint leaves
1 cup coriander leaves
Olive oil to taste
Fresh lemon juice to taste
Salt and pepper
Kernel seeds
Chermoula 
½ cup olive oil
½ cup fresh coriander, washed
½ cup fresh mint
½ cup fresh parsley
1 red chilli, seeds removed
2 tbsp. lemon zest
2 tbsp. orange zest
1 small  onion,
2 tsp. ground coriander
2 tsp. sweet paprika, group
2 tsp. ground cumin seeds
2 tsp. Ground turmeric
3 cloves of garlic
Juice of a ½ lemon
1 tsp. sea salt
Place all of the chermoula ingredients in a food processor and blend until combined to a smooth paste. In a large container add the chermoula, chicken cubes and marinate overnight. The chermoula paste could be made the day before.
Using bamboo skewers for the chicken cubes and cooked them on a charcoal grill or on a pan then for 15 mis in the oven.
Cooke the quinoa in boiling water for 9 mins. Once it's cool add the vegetables and the sauce to get a fresh salad ready to use for the chicken skewers.
Serve on a bed of quinoa the chicken skewers and topped them with the green leaves and the radish. Sprinkle with kernel seeds.