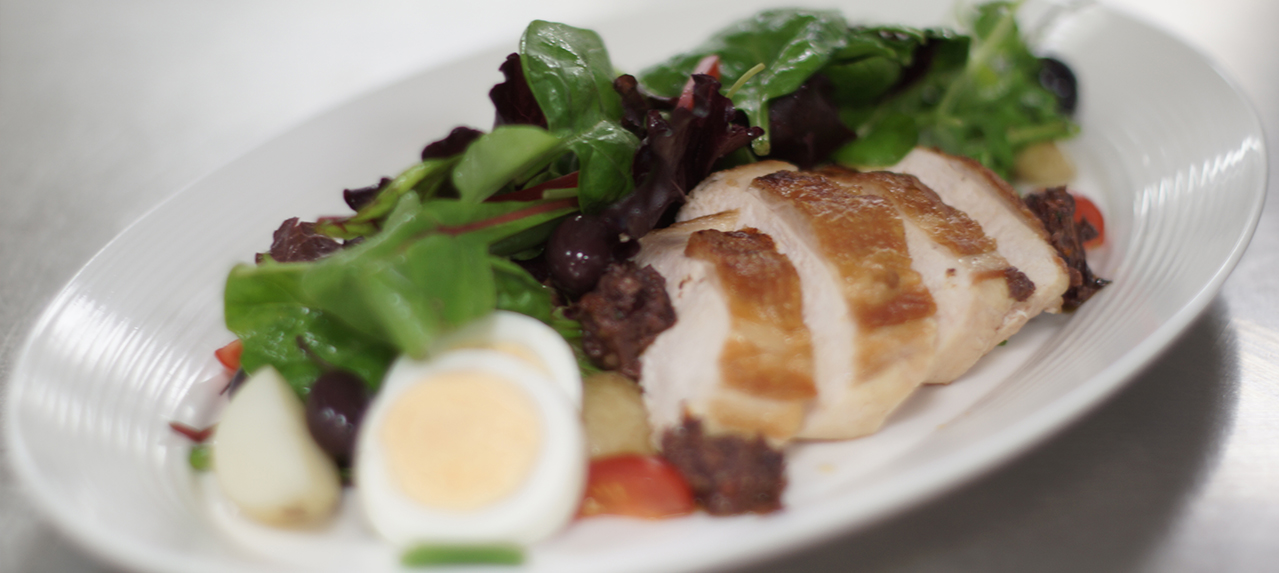 • 8 chicken breast pieces
• 2 tbsp olive oil
• Sea salt and freshly ground black pepper
to taste
• 20 anchovy fillets
• 1 pound (450g) haricot verts, blanched
• 1 pound (450g) yellow beans, trimmed, blanched
• 2 pounds (900g) new potatoes, confit
• ½ each, red & yellow bell peppers,
cut in thin strips
• 6 each, red & yellow tear drop tomatoes,
sliced in half
• 8 farm eggs, soft boiled
• 1 cup Nicoise olives
• Sprigs of parsley to taste
• Olive tapenade to taste
Soft boiled eggs
• 8 eggs
• Water to cover
• Ice bath
Sun Dried Tomato Olive Tapenade
• 8 oz. (226g) sundried tomatoes
(roughly chopped)
• 8 oz. (226g) Kalamata olives (roughly chopped)
• 5 anchovies
• 3 each garlic cloves
• 1 tsp rosemary
• EVOO to cover
Confit potatoes
• 2 pounds (900g) new potatoes
• 2 garlic cloves crushed
• 1 bunch thyme
• Oil to cover
1. Bring the water to the boil. Place the eggs in the boiling water for 6½ minutes. After 6½ minutes shock the eggs in an ice bath for 10 minutes. Peel and cut off the tip of the egg. Season with salt and pepper.
2. In a food processor, puree anchovy, garlic, and rosemary together with a small amount of olive oil to
form a smooth paste.
3. Combine this together with the tomatoes and olives in a small saucepan. Cover with olive oil and slowly bring up to temperature while stirring constantly.
4. The mixture should not simmer but be hot. Once hot remove from heat and transfer to
a container to cool down.
5. Place the potatoes in a small saucepot. Cover with blended oil. Add the thyme and garlic. Cook on a low flame until potatoes are fork tender. Strain potatoes and cool on a sheet pan. Slice the potatoes in half.
6. Preheat oven to 350 degrees. Heat olive oil in a large frying pan. Season the chicken breast with salt and pepper. Place the chicken breasts skin side down for 8-10 minutes.
7. When the skin is crispy, flip the chicken and cook for another 8 – 10 minutes. Place in the oven for 10 – 15 minutes depending on the size of the chicken breast. Cook until the juices run clear or if you use a thermometer the internal temperature should read at 160 degrees. Let the chicken breast rest for 8 minutes, then slice on a bias.
8. Toss all the ingredients except the chicken and the egg in the simple vinaigrette. Season
with salt and pepper.
9. Fan the chicken on the plate and place all the other ingredients around the chicken. Garnish
with the tapenade.