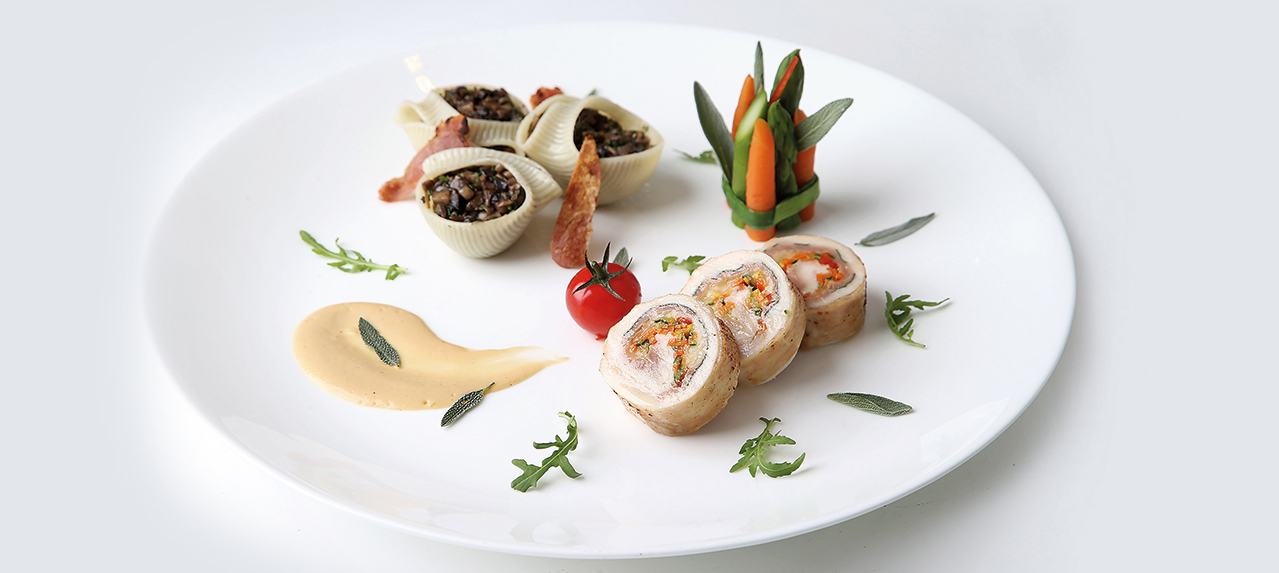 Chicken Roll
250g boneless chicken breast
1 large slice of Parma ham
20g Comté cheese
1 carrot, zucchini, red pepper, celeriac, julienned
6 leaves fresh sage
Salt and freshly ground pepper, to taste
Stuffed Lumaconi Pasta
3 Lumaconi pasta shells
100g fresh diced Shiitake mushrooms
50g of diced Champignons de Paris
20g diced shallots
25g butter
Sauce
50g diced shallots
½L chicken stock
2 egg yolks
5g demi-glace powder
100g fresh cooking cream
25g butter
1. For the chicken roll, season the chicken breast with salt and pepper.
2. Using a kitchen mallet, hammer the chicken breast until it is about ¼ inch thick. Place a layer of the Parma ham and another layer of Comté cheese on the chicken breast and equally scatter the carrot, zucchini and red pepper, the celery and the fresh sage.
3. Tightly roll up the breast and fasten with a toothpick.
4. Place the chicken roll on an aluminum foil paper; cook it in an oven at 200°C for 20 minutes.
5. Once done, melt 1 tbsp of the butter with some olive oil in a fry pan over medium-high heat, until very hot.
6. Add the chicken breast and cook until all the sides are golden brown. Cut in slices of 1 inch each.
7. Melt the butter in a pan, sauté the diced shallots, shiitake mushrooms and Champignons de Paris. Add salt and pepper. Stuff the cooked Lumaconi pasta with the mushroom mix.
8. For the sauce, sauté the diced shallots in a frying pan in melted butter.
9. Add the chicken stock with the demi-glace powder, stir, and boil, then let cool down. Add the egg yolks while constantly whisking on low heat.
10. Take off heat (do not let it boil), add fresh cream, and then add salt and pepper to taste.
11. Accompany with a bouquet of sautéed asparagus and baby carrots, garnished with green leaves.