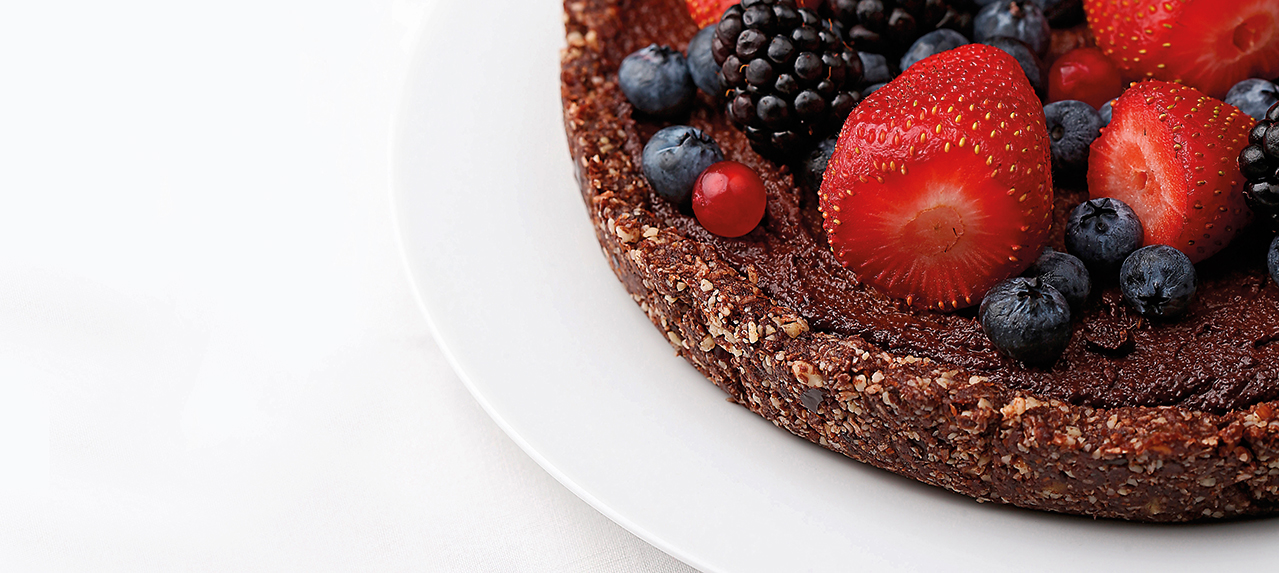 Pie Base
1 cup almonds
1/3 cup unsweetened coconut
6 tbsp unsweetened, dairy free cacao powder
1 cup dates (pitted)
Filling
1 cup cashews soaked overnight (at least 8 hours)
15 tbsp full fat coconut milk
200g dairy free, soy free chocolate (70% cacao solids and above)
Garnish
Mixed fresh berries for topping (strawberries, raspberries, blueberries, blackberries, redcurrants)
1. Soak the pitted dates in water for 20 minutes.
2. Meanwhile, grind the almonds to fine flour. Add the desiccated coconut and cacao powder and mix in a stainless steel bowl. Set aside.
3. Drain the dates, making sure to squeeze out any excess water by hand. Throw the dates into a processor and keep pulsing until they are a paste-like texture.
4. Add the other ingredients to the processor and pulse until they are a soft and uniform mixture.
5. Grab a small round baking dish/pie or tart pan that has been lined with parchment paper and start pressing the mixture against it, shaping it and perfecting it by hand. Place in the freezer for at least 30 minutes.
6. For the filling, drain the cashews and throw into the processor. Add the coconut milk and blend.
7. In a double boiler (bain marie) or a saucepan, temper the chocolate. The chocolate should be finely chopped and it should be tempered over low heat.
8. Once the chocolate has been tempered, pour it over the cashews and milk and pulse until all looks well combined. Take the pie base out of the freezer and pour in the filling.
9. Top with berries and refrigerate for a few hours and serve.