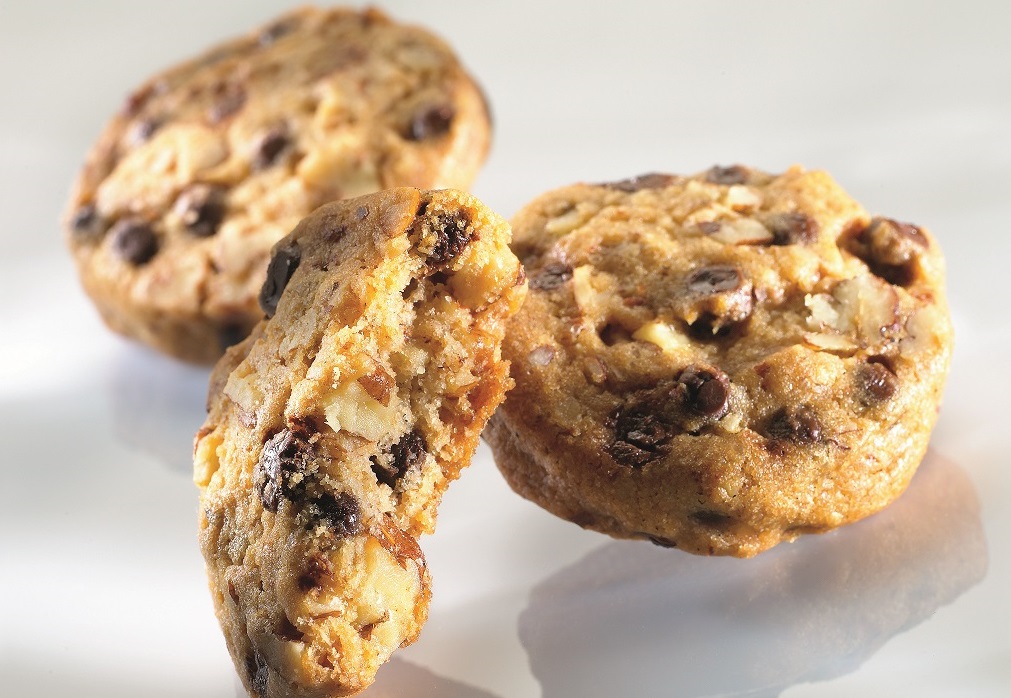 Chocolate Cookies rings
130g butter
140g raw cane sugar
50g eggs
180g  flour 55
3g  baking powder Sosa
240g  Manjari 64% Couverture
150g chopped walnuts Sosa
Pecan Chocolate Pearl Cookies
180g butter
120g raw cane sugar
55g eggs
180g  flour 55
5g baking powder Sosa
150g  pecan nuts Sosa
150g Dark Chocolate Pearls 55%
CHOCOLATE COOKIES RINGS
Melt the 60g of the chocolate and chop the rest.
Soften the butter, add in the brown sugar and beat until pale.
Stir in the eggs followed by the flour sieved with the baking powder beforehand.
Fold in the melted chocolate followed by the chocolate chips.
Fold in the chopped pecan nuts.
Roll out between two plastic sheets and cut out in 6cm discs using a pastry cutter.
Store in the freezer or bake on silicon mat at 170°C for about 10mins.
Once baked, pierce a hole in the center of the cookies with a plain nozzle of 16mm in diameter.
Store in a dry place.
PECAN CHOCOLATE PEARL COOKIES 
Soften the butter into a paste and then add the brown sugar and stir until the mixture whitens.
Add the eggs and then the sifted flour and baking powder.
Add the walnuts and the dark chocolate pearls.
Form rings of around 5cm in diameter and harden them in the freezer.
Once hardened, cut some slices around 1/2cm thick, then put them on a baking sheet covered with parchment paper or a perforated silicone baking sheet.
Place in a 160°C oven for 15 mins.
Let cool on a grill.